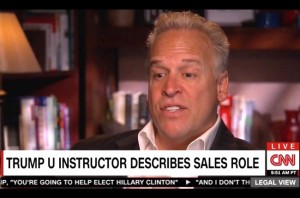 On Legal View With Ashleigh Banfield this afternoon, CNN's Drew Griffin sat for an interview with a former instructor from Trump University who spoke about his role with the school that is under intense scrutiny amid several lawsuits.
The now defunct Trump University is at the center of an ongoing investigation that is providing a headache for the GOP presumptive nominee. While Trump is actively trying to block the release of a deposition video that he gave testifying under oath, students have filed lawsuits against the University, claiming "fraud, false advertising, and unfair business practices." James Harris was one of those supposedly "hand-picked" instructors, and as his interview with CNN's Drew Griffin on Wednesday revealed, he's about as sleazy as you would expect a Trump U champion to be.
The primary lawsuit in question alleges that none of the teachers were experts, nor were they hand-picked by Trump himself, as the curriculum claimed. Trump University, allegedly, did not reach any real life real estate secrets. So what was the hook of the whole enterprise?
"We were bringing in the money. A lot of it," said Harris, a former instructor who touted his real estate expertise one minute while being unable to prove it the next.
"Real estate is a very wide, yuge business," he said, sounding exactly like the namesake of the school he was once so profitably employed by.
"We can't find your broker's license anywhere," cornered CNN's Drew Griffin. "This is part of your pitch. Is any of that true?" Harris balked at the questions Griffin peppered him with about his claims of previous credentials:
"I'm not prepared to answer any of those questions."
A former Trump U student claimed, "[Harris] kept walking up and down the aisle, flashing his Rolex in our faces". The student is part of the lawsuit trying to get back his 34K that he dumped into the "education" program.
"I was told to promote and sell the Trump University packages and the packages they were offering," Harris admitted to Griffin. "It's a little upsale."
When Griffin cornered Harris with emails he had written that seem to indicate he knowingly ripped off an elderly couple out of untold sums of money at the expense of Trump University, Harris sheepishly said, "That was the job," while doing his best to deflect.
As Banfield pointed out following the airing of the remote segment, "Trump couldn't recall a single name of his live events instructors when he was asked under oath."
Ironically enough, it is U.S. District Judge Gonzalo Curiel — the same "very hostile judge" who suffered Trump's scorn when he argued that the Judge could not be objective given his Hispanic heritage — who will decide whether the candidate's deposition will be released. Trump testified at an all-day deposition on December 10 and again for several hours a few weeks later.
Watch the above segment from CNN.
—
J.D. Durkin (@jiveDurkey) is an editorial producer and columnist at Mediaite.
[image via screengrab]
This is an opinion piece. The views expressed in this article are those of just the author.