Fox Business Reports On Bernie Madoff's New Scheme: Trying To 'Swindle' The Media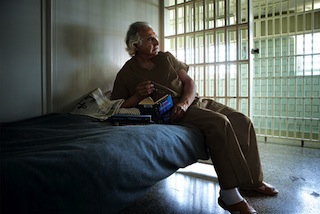 What's it like to be one of the country's most hated men? It probably doesn't feel that great. So, it's unsurprising that Bernie Madoff is apparently using the media to rehab his reputation. Unfortunately for him, he's not getting any help from Fox Business Network's Charlie Gasparino who, in a new profile, doesn't depict Madoff as the victim he seems to want to be. Instead he depicts him as, well, a guy who's using the media to rehab his reputation.
Gasparino, who held a series of interviews with Madoff over email and phone, makes his feelings about his subject pretty clear from fairly early in the piece, saying, "it's hard to believe much of what Madoff says about anything" (not to mention the implied smirk that accompanies the simple headline "Madoff: I'm a Victim, Too"). And he gives a good example. He quotes Madoff at length discussing a class he will be teaching at Harvard Business School. These quotes are quickly followed by one from, of course, Harvard Business School: "The entire matter is not true."
The profile does go into Madoff's claims of what really went down (he's quick to say there was no justification for his wrongdoing but would very much like us to understand the all-encompassing atmosphere of corruption that led to it) but, especially for us, the most interesting parts are Gasparino's descriptions of the media frenzy to get the first video interview with the man.
"Is the exclusivity of a Madoff interview now making competing news channels forget they are dealing with one of the world's best liars who is intent on remaking his image? According to media experts, it's easy to be manipulated, particularly by someone as skilled as Madoff, when a major scoop is on the line.

'Now with heightened competition from the Internet, bloggers and shows like TMZ, mainstream journalists are facing even more pressure to get the story first including this one,' says Robert Steele, Distinguished Professor of Journalism Ethics at DePauw University. 'Interviewing him is one thing, but to give someone like Bernie Madoff who has hurt so many people, a media megaphone to lie is counterintuitive of the values of the journalism profession.'

Ethics aside, the race to be the first network to put Madoff in front of the camera goes on, as does Madoff's desire to make himself into a different person."
It's a pretty fascinating read which includes the theory that perhaps Madoff is making this big media push to head off a potential big interview his one surviving son who isn't much of a fan.
Read about Madoff's attempts to turn himself into "a reluctant swindler who was in a business that's filled with them" in the public's eye here.
Have a tip we should know? tips@mediaite.com