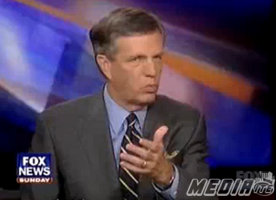 On Fox Sunday yesterday, host Chris Wallace brought up the Elena Kagan "interview" the White House released earlier in the week. And to make sure his guests knew how he felt, he was sure to use air quotes to signify his disdain. The panel took the bait, especially Juan Williams who said "the idea that you put out your own media now and control images…that's pretty close to Pravda." But the White House got a surprising defender in the form of Brit Hume who brushed off the criticisms saying "Americans aren't stupid."
When the video was released, Mediaite's Tommy Christopher was also critical of the interview, writing:
From a PR standpoint, the short (3 min 22 sec), slickly-produced interview is a triumph, showcasing Kagan's personality in a milieu of graceful camera changes and stylishly floating stills. She also gives a handy explanation of the difference between the Solicitor General and the Surgeon General.

Journalistically, you could argue that Kagan's feet weren't actually held to the fire here, or even a warm pair of slippers. This is nothing new, but it would have been a nice surprise to see her swing at a couple of curveballs. Maybe there's an outtake reel somewhere.
Hume has been a fair critic of this White House administration in the past, and has also show support for Obama in some instances as well. But the tenor of this particular discussion seemed to be quite critical of the White House produced video until Hume stepped up in defense of the Administration.
See the exchange below (with the original video to follow):
Have a tip we should know? tips@mediaite.com
Colby Hall - Founding Editor