Fox News' Chris Wallace Talks To Mediaite About His Convention Coverage And The State Of The Race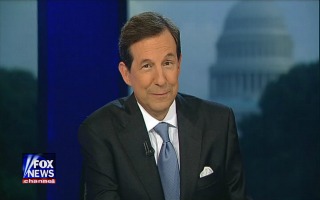 After moving on from covering last week's Republican National Convention to the Democratic equivalent in North Carolina, Fox News Sunday host Chris Wallace recently sat down with Mediaite to discuss his career and the state of the 2012 presidential race.
Wallace has been a fixture in national political journalism since he joined NBC News in 1975 and has driven the week's news cycle since he took over Fox News Sunday from the late Tony Snow in 2003. Wallace, a self-described "newsman," typifies the increasingly rare political journalist whose personal biases and affiliations are nearly imperceptible in his reporting.
As an interviewer, Wallace says that preparation is the only strategy to getting political operatives, well versed in the art of evasion, to abandon their pre-approved talking points. "One of the joys –- and I think the only place this happens anymore is on Sunday morning television –- is we get follow ups and follow ups to follow ups," says Wallace.
"We don't have subpoena power," says Wallace. "We can't hit them with a billy club. If they refuse to answer the question and they won't budge, I take solace in the idea that the audience understands that they were unwilling to confront the issue and they just want to stick to talking points. I don't think it fools anybody."
He cited as among his proudest recent moments a program in which he pushed White House Chief of Staff Jack Lew on the Obama administration junking its insistence that the mandate within the 2010 health care reform law was not a tax in arguments before the Supreme Court. Wallace says that he turned right around in the next segment and hammered Republican Senate majority leader Mitch McConnell on the lack of a Republican plan to address the costs incurred by the nation's 30 million uninsured.
Wallace served as Fox News Channel's podium correspondent during the RNC. He will occupy a similar position at this week's Democratic National Convention in Charlotte, North Carolina.
Due to Wallace's position on the podium, he has had to serve as an instant reaction analyst on top of his role as impartial journalist. He previews the themes convention speakers will touch on before they speak, and he is often the first voice on Fox News offering criticisms or observations about the speakers' addresses once they are concluded.
"At the end of the event, you play drama critic and give your review of how the speakers did," says Wallace. Unlike a drama critic who can often measure his impressions against those of his colleagues, this year Wallace has been in the position of offering his assessment of convention speakers minutes after they finish. "Generally they have been coming to me first," Wallace says. "I have to get out there first and say what I thought."
Wallace says he is comfortable with the role of analyst – teeing up the conversation even ahead of FNC panel regulars like Brit Hume and Charles Krauthammer.
Wallace made waves last week when he offered a sharp criticism of Rep. Paul Ryan after he concluded his address to the convention. Wallace observed that Ryan was being disingenuous when he attacked President Barack Obama for ignoring the recommendations of the Simpson-Bowles debt reduction commission — a commission Ryan sat on and whose recommendations he also opposed.
"It was misleading on his part," says Wallace. "I thought it was silly because he had to know, or should have known, that he wasn't going to get away with it." Wallace says that he felt Ryan's speech was successful, but had to ask "'why give your opponents that ammunition?'"
Wallace's observation about Ryan's key omission in his convention acceptance speech made its way into an Obama campaign web advertisement. While some journalists have been vocally critical of campaigns using them in their ads, and Wallace is clear that he is not thrilled when he makes an appearance in a political ad, it does not bother him as much as it does others in his field.
"I just say what I say," says Wallace. "I've shown up in Republican ads and Democratic ads. I guess that means I'm an equal opportunity inquisitor."
Broadly, Wallace says that he thought the Republican National Convention was "successful." He felt that Romney's speech was "effective but it didn't soar," and that Ryan's address was "a more effective and bigger speech."
NEXT>>>>Continue to page 2 of the article here
Have a tip we should know? tips@mediaite.com