Speculation Mounts That Ron Paul Will Launch Third Party Presidential Bid On Tuesday's Tonight Show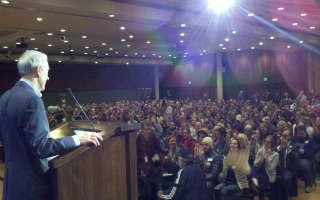 Speculation is mounting that Texas Rep. Ron Paul will mount a third party bid for the presidency as pressure from his supporters builds ahead of his appearance Tuesday night on NBC's Tonight Show with Jay Leno.
According to a report, Paul's supporters were deeply upset by how the libertarian Texas Representative was treated at the Republican National Convention last week. 300 of them joined in a conference call on Sunday night planning to urge Paul to launch a last-minute independent bid for the White House.
In order for Paul to appear on the ballot in all 50 states, he would have to join the Libertarian party's ticket — either as former New Mexico Gov. Gary Johnson's running mate or as his replacement. The party's present vice presidential nominee, Jim Gray, would have to drop out of the race.
The conventional wisdom holds that, in a three-way race between President Barack Obama, Republican presidential nominee Mitt Romney and Rep. Paul, the two Republican candidates would split the conservative vote and easily deliver the president his second term.
However, Republicans have some reasons not to fear the unlikely event that Paul throws his hat back into the presidential ring.
In April, Public Policy Polling showed Paul would trail Obama with 44 to 47 percent support in a head-to-head matchup. While Paul's favorability ratings were deeply underwater (32/54 percent), Paul was viewed favorably by nearly as many Democrats (26 percent) as Republicans (37 percent).
A Rasmussen Reports poll from May shows that Paul would steal much of the youth vote away from President Obama. That lost support resulted in a 44 to 39 percent advantage for Mitt Romney among the general electorate.
In 2008, Obama secured two thirds of the votes of those aged 18 to 29. Though enthusiasm for his candidacy is down slightly from four years ago, the president is expected to win the majority of the youth vote in 2012. A Paul candidacy is likely to upend the expectations about which candidate young voters would support.
There is history on the side of Republicans in a three-way presidential race between two Republicans of varying ideological stripes and a Democratic incumbent. In 1980, as voters prepared to cast their votes either for or against President Jimmy Carter, moderate Republican-turned-independent, John Anderson, shared the ballot with GOP nominee Ronald Reagan.
According to 1980's exit polls, Anderson secured 12 percent of those who described themselves as "liberal," 6 percent of self-identified Democrats and 13 percent of independents. In a 1980-like economic and political environment, it is not impossible that a similar situation would arise in a contest between competitive Democratic, Republican and Libertarian tickets.
In today's more polarized political environment, those totals are probably beyond the hopes of a Paul/Johnson ticket facing a three-way race. The dynamics of today's electorate are strikingly different from the electorate of 1980, and making comparisons between the two is a flawed practice.
That said, Paul's ability to attract the support of disaffected voters — who do not support the president but will balk at casting their vote for the Republican party's nominee — could buoy Romney's prospects on November 6.
Of course, this is in the highly implausible event that Rep. Paul heeds the calls of his ardent supporters to get back into the race either tonight or in the near future.
h/t Breitbart.com
> >Follow Noah Rothman (@Noah_C_Rothman) on Twitter
Have a tip we should know? tips@mediaite.com