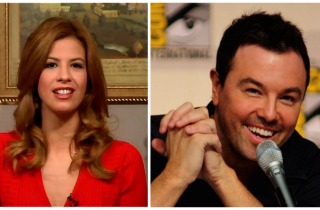 Michelle Fields, a reporter for PJ Media as well as a Fox News contributor (mostly known for appearances on one particular show), claimed Thursday that Seth MacFarlane once hit on her at a gas station.
Mind you, MacFarlane is the wildly successful creator of the Family Guy series. He's also a decently attractive man who can both sing and dance. That doesn't impress Fields, however, who used the anecdote to mock the entertainer.
After Republicans made big gains in the midterm elections last week, MacFarlane tweeted, "Depressing to hear the Republican Congress immediately start in about the Keystone XL Pipeline. Is it ALWAYS just about oil with you guys?"
Fields replied six days later: "Ironic coming from the guy who tried unsuccessfully to ask me out at a gas station while filling up his luxury car."
She followed up saying, "Oh ya. And when I was in high school."
Fields is 20-something now, so it's possible she was underage at that time that MacFarlane, now 41, allegedly made a pass at her.
Did MacFarlane, who is close to twice Fields' age, hit on the Fox News contributor? Or did he simply say something nice that was then misconstrued to be a pickup line? Fields did not return request for comment.
Tweets below:
..ironic coming from the guy who tried unsuccessfully to ask me out at a gas station while filling up his luxury car pic.twitter.com/7wHQgaoGZ9

— Michelle Fields (@MichelleFields) November 13, 2014
Oh ya. And when I was in high school.

— Michelle Fields (@MichelleFields) November 13, 2014
[Photo via Fox News/screen grab, Gage Skidmore]
— —
>> Follow Eddie Scarry (@ecarry) on Twitter
Have a tip we should know? tips@mediaite.com