Fox News Poll: GOP Voters Think Sarah Palin Should Stay Out Of Presidential Race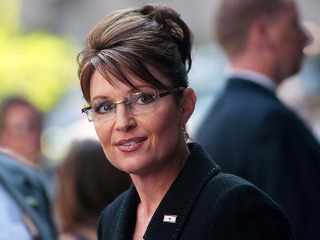 Republican voters may be loving Michele Bachmann and Rick Perry right now, but, if a recent Fox News poll is anything to go by, they don't feel the same way about Sarah Palin.
The poll, conducted "under the joint direction of Anderson Robbins Research (D) and Shaw & Company Research (R)" — shows that Republican voters (including the Tea Party members within the fold) do not feel that John McCain's former running mate should make a bid for the presidential nomination.
The results of the poll, which was conducted August 29 -31, specifically included a question about Palin, who has yet to officially announce whether she will or will not run:
27. Do you think Sarah Palin should run for president in 2012 or not?

Yes 20%
No 74
(Don't know) 6
More specifically, two-thirds of poll responders who described themselves as Tea Party voters do not think Palin should run, and 71 percent of all Republican voters say she should sit this one out. The 74 percent above reflects the response from the entire electorate.
The survey also asked responders an interesting question: Is there any candidate — official or otherwise — whom you find to be too extreme? Turns out, most people said "nope!" and a lot said they had no idea. But the candidates they did mention are fairly diverse:
28. Are there any announced or potential candidates for the Republican nomination who you feel are just too extreme to be seriously considered? If yes, who? (OPEN ENDED. DO NOT READ LIST. MULTIPLE RESPONSES ALLOWED.)

(Bachmann) 18%
(Perry) 14
(Palin) 12
(Paul) 10
(Gingrich) 5
(Romney) 4
(Cain) 3
(Santorum) 3
(Huntsman) 2
(No, None) 35
(Other) 4
(Don't know) 22
Are you surprised by the results?
h/t FoxNews.com via WSJ.com
Have a tip we should know? tips@mediaite.com