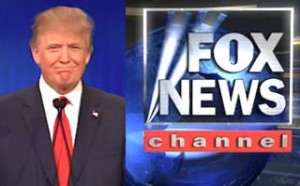 Fox News has issued a statement responding to Donald Trump's conduct on social media, calling The Donald out for his timidity with what can only be described as trolling of the highest order.
Trump has said that he might not attend Fox News's GOP debate this Thursday because, he says, co-moderator Megyn Kelly isn't "fair" to him. He took his grievances to Twitter and Instagram Tuesday afternoon, asking fans, "Should I do the GOP debate?"
Fox News responded in a statement given to Mediaite, saying:
We learned from a secret back channel that the Ayatollah and Putin both intend to treat Donald Trump unfairly when they meet with him if he becomes president — a nefarious source tells us that Trump has his own secret plan to replace the Cabinet with his Twitter followers to see if he should even go to those meetings.
In a similar statement released Monday, a Fox News spokesperson said the network was "surprised he's willing to show that much fear about being questioned by Megyn Kelly," and suggesting that one day, the presidential candidate would have to learn that he doesn't get to pick which journalists cover him.
——
UPDATE — 4:57 p.m. ET: Mediaite reached out to Fox News to ask if the network planned to make any changes to Thursday night's GOP debate. In an email statement, Fox News CEO Roger Ailes said:
Megyn Kelly is an excellent journalist and the entire network stands behind her — she will absolutely be on the debate stage on Thursday night.
——
UPDATE — 5:48 p.m. ET Donald Trump tweeted his response late Tuesday afternoon, calling Fox News's statement a "pathetic attempt" to build ratings:
Pathetic attempt by @foxnews to try and build up ratings for the #GOPDebate. Without me they'd have no ratings!
https://t.co/2bx54VKpQh

— Donald J. Trump (@realDonaldTrump) January 26, 2016
——
Follow Sam Reisman on Twitter
Have a tip we should know? tips@mediaite.com