FoxNews.com Dishonestly Edits Tommy Christopher Commentary On President Obama And Background Checks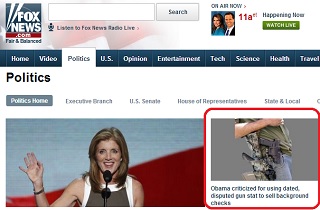 On Tuesday, this website published a piece of commentary that was highly critical of Washington Post fact-checker Glenn Kessler's analysis of statements made by President Obama concerning background checks for gun purchases. The conclusion of my piece was that the President's statements, that as many as 40% of gun purchases do not require background checks, were accurate, based on the data available. The Fox News website, however, selectively and inaccurately edited my analysis in order to give the opposite impression, and failed to provide readers with a link to the full commentary.
The analysis I wrote, of Glenn Kessler's fact-check, dealt with Kessler's manipulation of the available data to arrive at a false conclusion. He was evaluating the President's March 28 declaration, in a speech, that "as many as 40 percent of all gun purchases to take place without a background check," and a later tweet that read "FACT: Nearly 40% of all gun sales don't require a background check under current law. #DemandAction"
While the President clearly qualified his statements as the maximum number of unregulated gun purchases ("as many as…"), the logic Kessler used to impeach the President's statement manipulated the data to find the minimum possible percentage of gun purchases without a background check. In one passage of my commentary, I illustrated the contrast this way:
You can read all of it, if you have the patience, but let me save you the trouble: based on this study, it is possible to conclude that as few as 26.4% of gun owners in that study "purchased" their gun without a background check, 20.4% if you factor in the margin of error.

Unfortunately, that's not the claim the President made. He said "as many as 40 percent" of gun purchases were made without a background check. You can argue among yourselves whether it matters to you if your face is shot off with a gun that once sported a big red bow, but if your aim is to extrapolate, from that study, the maximum possible number of gun transfers without a background check, the figure would be 49%(.)
My piece goes on to explain that even if you restrict the study's results to just purchases, and not other transfers, the result is still as many as 39%.
In a news article that's still on the front page of Fox News' politics section, an un-bylined Fox News reporter summarized Kessler's post, then presented my commentary this way:
But not everyone agrees with The Post's fact checker.

"While slagging the president may be good for business, the effect of (the newspaper's) false ruling is to undermine legitimate efforts to keep the public safe, and to obscure the real enemy of reliable data on gun violence," Tommy Christopher of Mediaite wrote in a rebuttal Tuesday.

"It is possible to conclude that as few as 26.4% of gun owners in that study 'purchased' their gun without a background check, 20.4% if you factor in the margin of error," he said.

The administration has not responded to questions surrounding the number and why they continue to use it to promote their gun control measures.
Instead of presenting my true conclusion, that the President's 40% figure is accurate, the reporter leaves readers with the opposite impression. To make matters worse, the site doesn't even allow readers to evaluate the piece for themselves by including a link. The Fox News report also ignores standard journalistic procedure by not noting that they're quoting me in mid-sentence, which can often be a tip-off to selective and misleading editing.
To be clear, this was not some Fox Nation aggregation, or an opinion piece on one of their blogs, this was a straight news story presented on their straight news site. In addition to being injurious to their readers by not reporting the story accurately, this incident is particularly injurious to me, since it undermines the months of work I've put into educating the public on gun regulation. At a minimum, Fox News should correct their story, add a link, and apologize for twisting my words.
Have a tip we should know? tips@mediaite.com