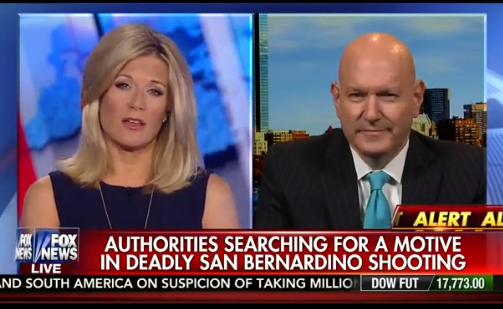 Fox News contributor Dr. Keith Ablow told America's Newsroom host Martha MacCallum Thursday that if a person named Syed "leaves your party," you should "call the cops."
Syed Farook and his wife Tashfeen Malik are the suspects in a deadly massacre that killed 14 and injured at least 17 in San Bernardino, CA. Details are still emerging in the case, but Farook — whose work hosted a holiday party at the Inland Regional Center where the mass shooting took place — allegedly left the event early in anger, only to return later with his wife to shoot up the center. Farook and Malik were later killed during a gun battle with police a few miles away.
MacCallum noted that Farook "fits the profile" of a radical terrorist, noting the suspect's age and recent actions — " going to Saudi Arabia, growing a beard, taking a wife, bringing her back here."
"Well I think, looks like a duck, acts like a duck, we've gotta get ourselves out of denial," Ablow replied, "It's a duck."
"The president wants to talk about gun control while the country is bleeding." Ablow said, adding it's "interesting" that President Barack Obama wants "America to disarm when we are under assault by radical Islam."
"You know, we don't have the facts," Ablow continued. "But as a journalist, as someone who tries to put together stories in my office as a psychiatrist and make sense of them, the one that would make sense without all the facts is that something happened at the party that led him to say, 'that's it I had it.'" Ablow suggested "maybe somebody said something that he considered off-color about his faith."
"Listen if somebody named Syed leaves your party and people say, 'why is Syed leaving?' — You know what, call the cops," Ablow said.
"That's the point we're at in this country, and I'm sorry to say it but we're there. And to do otherwise would be called the psychological force of denial," he added.
Watch the video above, via Fox News.
[h/t MMfA]
[Image via screengrab]
—
>> Follow Elizabeth Preza on Twitter (@lizacisms)
Have a tip we should know? tips@mediaite.com