Fraternity Files $25 Million Lawsuit Aginst Rolling Stone For Debunked Gang Rape Article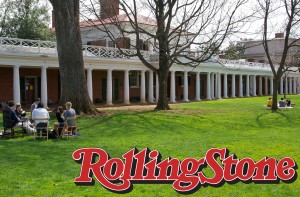 Phi Kappa Psi fraternity at the University of Virginia filed a $25 million dollar defamation lawsuit against Rolling Stone for an article the magazine published in Nov. 2014 that alleged seven fraternity members participated in the brutal gang-rape of a freshman girl as part of a hazing ritual.
The widely debunked and eventually retracted article "A Rape on Campus" by Sabrina Rudin Erdely garnered intense scrutiny after media outlets attempted to verify the story. Subsequent investigations found no evidence of a gang rape at the Phi Kappa Psi house. Though Rolling Stone originally stood by Erderly's reporting, in April the magazine formally apologized for the piece.
In a statement Monday, Phi Kappa Psi said, "the fraternity chapter and its student and alumni members suffered extreme damage to their reputations in the aftermath of the article's publication and continue to suffer despite the ultimate unraveling of the story." The statement also said student members and their families were subjected "to danger and immense stress" due to the article.
Protests erupted at UVA after the initial publication of the story. The Phi Kappa Psi fraternity house was vandalized with bricks and graffiti, including one mark that read, "UVA Center for Rape Studies."
In a complaint filed with the VA state court, the fraternity said it seeks "redress for the wanton destruction caused to Phi Kappa Psi by Rolling Stone's intentional, reckless, and unethical behavior."
Rolling Stone faces two other lawsuits stemming from the article's publication. Nicole Eramo, a dean at UVA, filed a $7.5 million lawsuit against the magazine in May, alleging the author wrongly vilified her by printing "highly defamatory and false statements" that painted Eramo as indifferent to rape victims. In July, three Phi Kappa Psi fraternity members also sued Rolling Stone for damages in excess of $75,000, claiming the story had a "devastating effect" on their reputations.
[Image via Wikimedia Commons]
—
>> Follow Elizabeth Preza on Twitter (@lizacisms)
Have a tip we should know? tips@mediaite.com