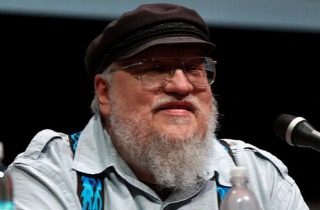 As of this week, watching Game of Thrones has officially turned into a traumatic experience (dear God it was actually worse than the Red Wedding), but luckily for those of you with tens of thousands of dollars to spare, you too might get the chance to die the same way scores of characters in A Song of Ice and Fire have died: in an incredibly gruesome and possibly f*cked-up manner.
Here's how the book/TV series work, for those of you who aren't familiar: EVERYBODY DIES. And the more you like them, the more likely it is that they will die. But as part of a charity drive to raise money for the Wild Spirit Wolf Sanctuary (that's wolf, not direwolf) and the Food Depot of Santa Fe, author George R.R. Martin is offering a series of benefits depending on how much you donate. For example, if you donate $350, you are a Lord of Winterfell and will receive a signed map of Westeros. If you donate $4,500, you are a Queen and will get a script of the first episode of the show by the cast and crew.
But the crown jewel comes with a $20,000 offering: you get to be a character in A Song of Ice and Fire. Here's exactly what that entails:
At this level, you'll get the incredibly exclusive opportunity to have George name a character after you in a future A Song of Ice and Fire novel. There is one male character and one female character available. You can choose your character's station in the world (lordling, knight, peasant, whore, lady, maester, septon, anything) and you will certainly meet a grisly death! You will also get all of the above rewards (with the exception of "extra rewards")
Now the only trick is to think of which title you would most prefer. That would be a real head-scratcher for anyone. Or, for a certain character who will go unnamed for spoiler reasons, a real head-crusher.
[h/t Daily Caller]
[image via Gage Skidmore]
— —
Follow Josh Feldman on Twitter: @feldmaniac
Have a tip we should know? tips@mediaite.com
Josh Feldman - Senior Editor