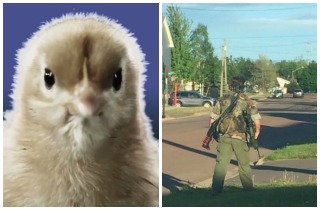 While the American political press is singularly focused on the slow motion disintegration of the White House's narrative surrounding the trading of five Taliban commanders for alleged deserter, Sgt. Bowe Bergdahl, the world has kept on spinning. And it seems to be spinning so fast that Democratic messaging professionals have been unable to keep up with it.
Democrats have spent the first half of the midterm year seeking ways to keep women voters as engaged in politics as they were in 2012, when the GOP's multi-front War on Women captured millions of imaginations. To achieve this, the strategy has been, well, to resurrect the War on Women.
"Democrats, facing a tough midterm election with crucial races in red states, have been focused on highlighting issues like the gender pay gap and the minimum wage, framing the economy as yet another front in their "war on women" strategy," The Washington Post's Nia-Malika Henderson reported on Wednesday.
If only the party could keep their candidates on message. Iowa's Democratic Senate candidate Bruce Braley went off script this week when he released a 30-second television ad taking on his opponent, Republican Senate candidate Joni Ernst, called "peep." The ad, which Ernst's allies have said draws a direct comparison to between her and a "chick," reflects a double standard. It shows how Democrats believe they can talk about women without being scolded in the press for their antediluvian views or tactless methods.
Some political operatives have rejected the idea that this ad, intentionally or subliminally, draws a connection between Ernst and the common but dismissive female sobriquet. And a fair assessment of the ad would lead any individual to the same conclusion. But does anyone doubt that a party which has declared discussion of virtually every aspect of Hillary Clinton's life – from her wardrobe, her age, her husband, her medical records, and even her hair – to be sexist and off limits would dare abstain from taking a swing at this softball?
But the War on Women is just one 2014 message aimed at stimulating the unenthusiastic Democrat. Others unmoved by latent sexist may still be stirred by the perennial liberal effort to impose restrictions on Americans' access to firearms. This is a particularly cynical strategy. Voters have been expressing their displeasure with the Democratic Party's gun control push in surveys and at the ballot box, to the point that even anti-gun stalwarts like former New York City Mayor Mike Bloomberg are being politely asked by party brass to back off the issue. Nevertheless, Democrats are happy to have the enthusiasm that anti-gun groups like Everytown for Gun Safety and Not One More bring to the table.
The universe has, however, handed anti-gun Democrats another irritation with which they must contend. Using what appear to be an M-14 semi-automatic rifle and a Mossberg 500 tactical shotgun, 24-year-old Justin Bourque killed three police officers and wounded two more overnight.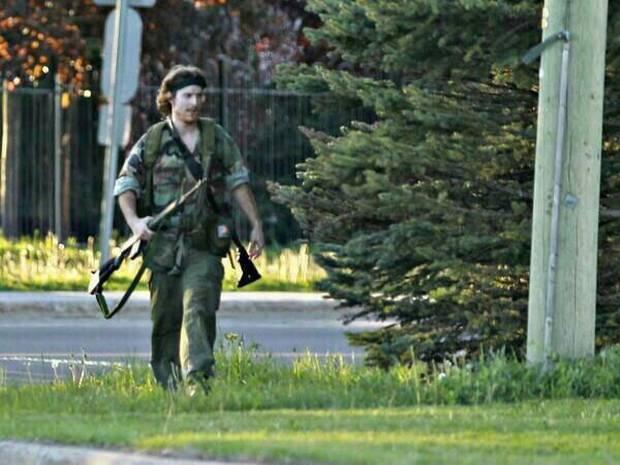 Image via NewsBreakers/Twitter
I mean, look at him! White, young, male; the very picture of the disturbed mass shooter with which we have become so sadly familiar. But don't strap on those well-worn March on Washington shoes just yet. This massacre occurred in the tainted paradise of Canada.
Bourque was reportedly "obsessed" with guns and gun ownership rights, despite his having grown up in a nation without the corrupting influence of the Second Amendment. He was apparently considered friendly and well-adjusted by most prior to this this rampage. "There were no signs of mental health problems," The Toronto Star reported. And, according to preliminary reports, his weapons were legally purchased and possibly even registered.
This ongoing event would suggest, tragically, that horrible things happen and perfect safety is a utopian goal. That will not stop politicians from selling utopia, but it does reduce the value of that fraudulent product.
These are just two of the headlines below the fold that are shattering the fragile campaign themes upon which the Democratic pitch is based. Now back to the collapse of the White House's Bergdahl narrative.
[Image via screengrab/Patrick Hemsworth/Twitter]
— —
>> Follow Noah Rothman (@NoahCRothman) on Twitter
Have a tip we should know? tips@mediaite.com