Garrison Keillor Fired By Minnesota Public Radio Over Allegations of Inappropriate Behavior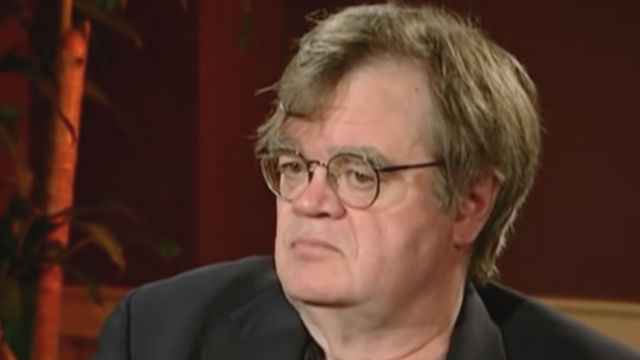 Garrison Keillor has been fired by Minnesota Public Radio over allegations of inappropriate behavior, he told the Associated Press today.
Keillor told The Associated Press of his firing in an email. In a follow-up statement, he says he was fired over "a story that I think is more interesting and more complicated than the version MPR heard."

He didn't give details of the allegation. Minnesota Public Radio didn't immediately respond to messages.
But after the AP's report went out, MPR released a statement confirming that he has been fired:
Minnesota Public Radio (MPR) is terminating its contracts with Garrison Keillor and his private media companies after recently learning of allegations of his inappropriate behavior with an individual who worked with him.

Last month, MPR was notified of the allegations which relate to Mr. Keillor's conduct while he was responsible for the production of A Prairie Home Companion (APHC).
They are cutting all business ties to Keillor and will no longer distribute or broadcast his program The Writer's Almanac.
The longtime host of A Prairie Home Companion wrote an op-ed for the Washington Post just yesterday saying Al Franken shouldn't resign.
Keillor wrote:
He did USO tours overseas when he was in the comedy biz. He did it from deep in his heart, out of patriotism, and the show he did was broad comedy of a sort that goes back to the Middle Ages. Shakespeare used those jokes now and then, and so did Bob Hope and Joey Heatherton when they entertained the troops. If you thought that Al stood outdoors at bases in Iraq and Afghanistan and told stories about small-town life in the Midwest, you were wrong. On the flight home, in a spirit of low comedy, Al ogled Miss Tweeden and pretended to grab her and a picture was taken. Eleven years later, a talk show host in LA, she goes public, and there is talk of resignation. This is pure absurdity, and the atrocity it leads to is a code of public deadliness. No kidding.
UPDATE –– 2:42 pm ET: Keillor has given further comment to the Star Tribune and… um:
In an email to the Star Tribune Wednesday, Keillor said, "I put my hand on a woman's bare back. I meant to pat her back after she told me about her unhappiness and her shirt was open and my hand went up it about six inches. She recoiled. I apologized. I sent her an email of apology later and she replied that she had forgiven me and not to think about it. We were friends. We continued to be friendly right up until her lawyer called."

Keillor even managed a joke of sorts: "Getting fired is a real distinction in broadcasting and I've waited fifty years for the honor. All of my heroes got fired. I only wish it could've been for something more heroic."

Then he turned more serious: "Anyone who ever was around my show can tell you that I was the least physically affectionate person in the building. Actors hug, musicians hug, people were embracing every Saturday night left and right, and I stood off in the corner like a stone statue.

"If I had a dollar for every woman who asked to take a selfie with me and who slipped an arm around me and let it drift down below the beltline, I'd have at least a hundred dollars. So this is poetic irony of a high order. But I'm just fine. I had a good long run and am grateful for it and for everything else."
UPDATE –– 2:57 pm ET: The Washington Post has added this to Keillor's column:
— Post Opinions (@PostOpinions) November 29, 2017
[image via screengrab]
— —
Follow Josh Feldman on Twitter: @feldmaniac
Have a tip we should know? tips@mediaite.com
Josh Feldman - Senior Editor