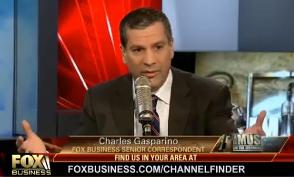 Charlie Gasparino made his official debut on FBN yesterday, appearing on several programs as well as Fox News (on Neil Cavuto's show).
It all began on Don Imus' morning show, where Gasparino revealed just how ready he was to take on his former employer, CNBC.
"I always wanted to work for Fox," he said. "I would like to build something, be part of building something and that is why I came."
But when it came time to talk about Tiger Woods (below), Gasparino discussed how excited he was to make his unofficial debut Friday to break news. "You know, I left CNBC very amicably but to watch them follow me 10 minutes later, was one of the greatest thrills in the world," he told Imus.
Later in the interview we learned more about Gasparino's competitive spirit (via Newsbusters). He said his job was to "come in here and make life difficult for the competition, which is what I love to do," and:
I did it when I was there, I'm definitely going to do it when I'm here. I read all the stories about me, you know, 'Oh, you had this issue or that issue.' That's not the case. I wanted to come here and I left extremely amicably. That doesn't mean I'm not going to rip their lungs out every day, or at least try to. They're going to beat me sometimes. I'm going to beat them sometimes, as I did with the Tiger Woods story. But, you know, that's what this is all about. It is my job to turn this into a barroom brawl with them, to scratch and kick and stomp them and then they're going to do it me and I'm going to do it to them.
Emphasis mine. Well…this hiring should certainly make the biz net wars a little more interesting.
One other note: guests on Imus' show yesterday included two that aren't likely to appear anywhere else on Fox News or even FBN – Matt Taibbi and Tommy James. For, well, very different reasons.
Here's Gasparino discussing Tiger and CNBC:


—–
» Follow Steve Krakauer on Twitter
Have a tip we should know? tips@mediaite.com