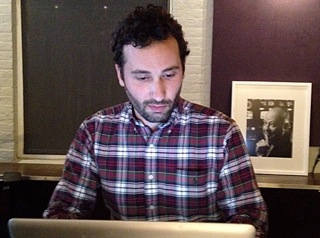 The Fox News mole employed for the past 24 hours or so by Gawker to leak interesting tidbits of news from the office has revealed himself. His name is Joe Muto, he was an Associate Producer for The O'Reilly Factor on Fox News Channel, and he has been suspended indefinitely from his job with pay. He does not think he will be returning, but he promises many more stories to tell.

RELATED: Fox News Spokesperson Tells Mediaite: We Found The Mole
Muto is now writing under his name, and tells this story tonight on Gawker:
Two hours ago I was called into a meeting with Dianne Brandi, the Fox News Executive Vice President of Legal and Business Affairs and suspended indefinitely… with pay, oddly enough.

In the end, it was the digital trail that gave me away. They knew that someone, using my computer login, had accessed the sources for two videos that ended up on Gawker over the past few weeks. They couldn't prove it entirely, but I was pretty much the only suspect.

I denied it, which is why they didn't fire me outright. But two nice gentlemen from security escorted me to my desk to pack up my stuff, and it was pretty obvious at that point that I would not be setting foot back into 1211 Avenue of the Americas again.
He tells a little bit of the story in his post– he began working there in 2004, and worked on several shows that never came afloat, and worked on The O'Reilly Factor. He readily admits to being a "weasel," but now that he is somewhat free to speak without fear of losing a job he doesn't really have anymore, he promises more posts in the future.
UPDATE: Fox News Responds To Gawker Mole: 'Joe Muto Is Fired Effective April 12′

A Fox News spokesperson updates Mediaite with these new developments:
Joe Muto is fired effective April 12. Once the network determined that Mr. Muto was the main culprit in less than 24 hours, he was suspended late today while we pursued concurrent avenues. We are continuing to explore legal recourse against Mr. Muto and possibly others.
Have a tip we should know? tips@mediaite.com