George W. Bush: 'Eight Years Was Awesome, And I Was Famous And I Was Powerful'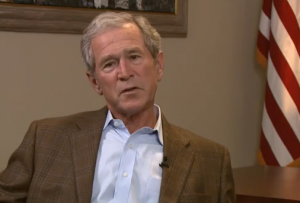 Since leaving the White House, President George W. Bush has largely stayed out of the limelight and out of politics. Save for his book, Decision Points, he's avoided glancing in the rearview mirror. But rest assured: he enjoyed those eight years. That said, he has no desire to jump back into the political arena.
In a lengthy, wide-ranging interview with the Hoover Institute's Peter Robinson, Bush said of his presidency, "Eight years was awesome, and I was famous and I was powerful." But, he added, "I have no desire for fame and power anymore. … I crawled out of the swamp and I'm not crawling back in."
It's a new chapter, he said, and that one, too, "is awesome." His work at the Bush Institute, he said, was his way of staying involved with policy without getting involved with politics. The latter was a point he revisited and drove him.
"My time as president's over. I did what I did," he said, noting that those who are interested in the thought process behind his decisions ought to read his book. "But the debate's finished. I think striving for a legacy is a complete waste of time. A legacy will emerge with the reach of time."
You're in politics or you're out, Bush said, again noting that he's out. In part, that's because he doesn't want to undermine the president:
I think it's bad for the presidency to have former presidents bloviating, opining, telling people how it ought to be done. … I don't want to undermine our president, whoever's president, and a former president can do that. … Either you're in or out of politics, Peter, and I've chosen to be out. You can't be halfway.
The two also discussed Bush's thoughts on certain aspects of foreign policy and education — as well as his love for Texas.
(H/T POLITICO)
Have a tip we should know? tips@mediaite.com