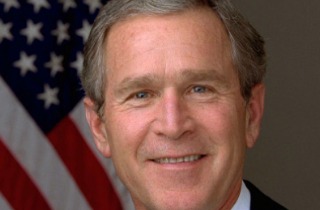 In 2012, George W. Bush spoke at an event for the Texas-based charity, Helping a Hero, which helps to provide homes for veterans that can specially accommodate those who lost limbs and suffered other severe injuries in the Middle Eastern conflicts.
Sounds great, right? There's a catch.
ABC News reported on Wednesday that when the former commander-in-chief spoke to the men and women he ordered into harm's way, he came with a price tag of $100,000.
The Bush family has been in connection with the charity in the past, which provided huge speaking fees and perks for the former president's time. Before the event itself, the organization dropped $20,000 on a private jet that Bush flew to get to Houston. In 2011, Laura Bush also made an appearance and received $50,000 for her troubles.
Former Marine Eddie Wright lost both his hands to a missile attack in 2004, and he's not happy that Bush could charge such an exorbitant price for men like him, who often made huge sacrifices under the former president's orders.
"For him to be paid to raise money for veterans that were wounded in combat under his orders, I don't think that's right," Wright said. "I was doing what you told me to do, gladly for you and our country and I have no regrets. But it's kind of a slap in the face."
Helping A Hero said that the appearances were worth the $170,000 price, bringing in record funds for both 2011 and 2012. Meredith Iler, the former chairman of the charity, said that they were fortunate to get Bush at the price he did, saying his usual range at the time went as high as $250,000.
[Image via Executive Office of the President of the United States]
Have a tip we should know? tips@mediaite.com