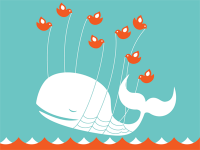 I am not making this up. A college in Illinois is planning on offering a course in Twitter this fall. My first reaction was that this may be a sign that Twitter has jumped the shark, but I'm more inclined to conclude that perhaps college has jumped the shark. Or at least journalism school?
Either that or the Chicago Tribune intern who is teaching the course is a genius who decided the way to make money in media right now is to continue the long held journalism school tradition of charging people to learn what they could otherwise figure out for themselves for free. So, what constitutes a pass do you think? A RT from Oprah? A shout-out from THE_REAL_SHAQ? From the press release:
DePaul University's College of Communication is exploring the new frontiers of journalism through courses on Twitter, entrepreneurial journalism and backpack reporting, providing students with cutting-edge knowledge in this rapidly changing field.
This fall, DePaul University journalism alumnus Craig Kanalley will teach what is believed to be the first college-level journalism course focused solely on Twitter and its applications. Kanalley is a digital intern at the Chicago Tribune.

It is one of several innovative courses offered by DePaul's College of Communication to help prepare students to work in the burgeoning digital landscape. Other journalism courses include niche journalism, reporting for converged newsrooms, backpack reporting and entrepreneurial journalism.

Kanalley said his course, "Digital Editing: From Breaking News to Tweets, is really about learning how to make sense of the clutter of the Web, particularly in situations of breaking news or major developing stories, and how to evaluate and verify the authenticity of reports by citizen journalists.

"Thousands share information about these stories and how they're affected through Twitter every day, and there's a need to sift through this data to find relevant information that provides story tips and additional context for these events," Kanalley said.
Have a tip we should know? tips@mediaite.com