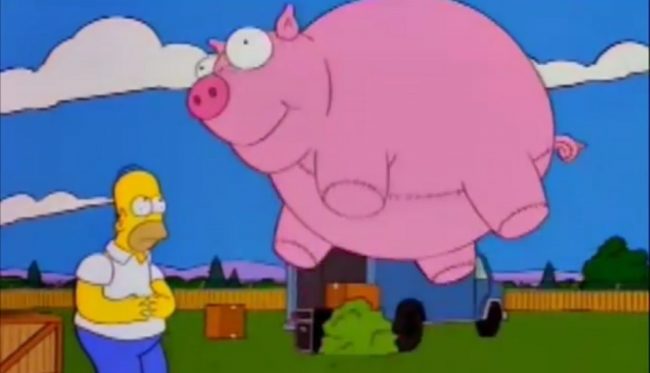 An architectural firm in Chicago plans a display of four golden pig balloons to protest the Trump Hotel in Chicago — and, by extension, President Donald Trump himself.
New World Projects originally announced their balloon demonstration plan in December 2016. However, the project received new attention on Thursday after the firm revealed that recent meetings with city government officials were "very positive," according to a Wednesday article by the Chicagoist blog.
CBS's Chicago affiliate also spotlighted the planned pig balloon protest in a Thursday report. They noted that "four large golden pig balloons would float from a barge on the Chicago River, just high enough to obscure the large 'Trump' sign" on Trump Tower in the city.
The architectural firm started crowdfunding on the anti-Trump project's website, and recently "received a major boost from Pink Floyd's Roger Waters, who has endorsed the concept. The Chicago pig design was inspired by the group's 'Animals' album cover, which shows a pig floating above Battersea power station" in England, according to the CBS report.
On their website, the protest planners underlined that the balloons are "a visual interpretation of Animal Farm. The art folly has been created to provide visual relief to the citizens of Chicago by interrupting the view of the ostentatious Trump Tower Chicago sign."
The organizers also claimed on their website that "ultimately, this is a very rational design and is in direct contrast to the chaotic nature and bizarre antics of our current leadership."
If they received the needed funding, New World Projects will name the pig balloons after characters in the George Orwell novel — Old Major, Napoleon, Squealer and Minimus.
Back in December 2016, Jeffrey Roberts, who is the principal architect at New World Projects, touted that their balloon protest would be "a bold visual response to the loud, illogical and frequently hateful expressions that engulfed the elections."
The Chicagoist write-up also cited Roberts, who claimed that "we're not highly political people, but with so many ridiculous actions taking place, we thought the strongest way to respond was with us using our design skills."
[image via screengrab]
Have a tip we should know? tips@mediaite.com