Giuliani Defends Comments on Obama's Patriotism: He 'Didn't Live Through 9/11, I Did'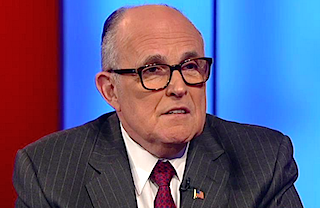 On Wednesday night, former New York City Mayor Rudy Giuliani told a private Manhattan audience, "I do not believe that the president loves America." He followed that up Thursday morning by clarifying to Fox & Friends that President Barack Obama "sounds like more of a critic than a supporter" of this country. And now, in a radio interview with Sean Hannity, Giuliani stood by his statement once more, this time invoking the September 11th attacks to justify his point.
"I think this is a pivotal moment, and it took someone of your stature and your credibility on this issue to bring this very important debate to the forefront," Hannity said, flattering his guest. "And, I know you're going to be under fire, I really do. But it is so important."
Giuliani told Hannity he's been making a similar point for the past several years, but it finally got picked up by reporters. "And I'm not saying it was out of context, it wasn't," he said. When Hannity brought up the specter of another 9/11, Giuliani asserted, "You know, President Obama didn't live through September 11, I did. President Obama didn't almost have a building fall on him, myself and my police commissioner and my fire commissioner did."
"So excuse me, it's a little bit emotional for me, but it's also real," he continued. "These people are dangerous." Giuliani went on to accuse Obama of "downplaying" the terrorist threat and hit Attorney General Eric Holder for saying the is the "creation of Fox News" (not exactly what he said). "I mean, where are they, on Mars?!"
While President Obama was not mayor of New York during 9/11, he was most certainly alive and serving as a state senator in Illinois at the time.
Listen to audio below, via The Sean Hannity Show:
[h/t MMFA]
[Photo via screengrab]
— —
>> Follow Matt Wilstein (@TheMattWilstein) on Twitter
Have a tip we should know? tips@mediaite.com