Giuliani Denies Having Advance Knowledge of Comey Letter, Contradicting Earlier Statement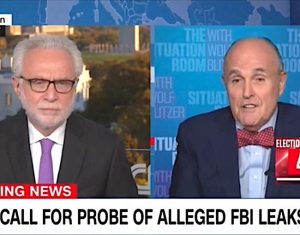 Trump surrogate Rudy Giuliani backpedaled Friday afternoon, claiming that he never had advance knowledge of the letter sent by FBI Director James Comey.
Giuliani affirmed that he had spoken to nobody currently working at the FBI and that his cryptic promises last week that there was a game-changing surprise coming was not a reference to Comey's missive telling Congress about the discovery of additional emails related to the Clinton investigation.
On Oct. 25 Giuliani told Fox & Friends that the Trump campaign still had a "couple of surprises left. The next day he told Fox's Martha MacCallum that there was "a surprise or two that you're going to hear about in the next two days."
Comey's letter came out on Oct. 28.
The timing fanned speculation that Giuliani had received advance notice that the letter, and attendant rekindling of the email investigation, was forthcoming.
Giuliani did not help himself by going on Fox & Friends Friday morning and saying that he had heard about the letter before it came out. "I did nothing to get it out," he said. "I had no role in it. Did I hear about it? You're darn right I heard about it."
The former NYC mayor claimed that he was "real careful not to talk to any on-duty, active FBI agents," but that he had been speaking to former FBI agents who told him "that there's a revolution going on inside the FBI and it's now at a boiling point."
In response, Reps. Elijah Cummings (D-MD) and John Conyers (D-MI) wrote a letter to the Justice Department Inspector General, asking that the office investigate the rash of "unauthorized and inaccurate leaks from within the FBI." They referred both to Giuliani's apparent boast that he had heard about the letter and to the several unnamed sources that Fox's Bret Baier cited in his Wednesday night report on the FBI's Clinton probes. (Baier later apologized for inaccurately presenting key elements in his report.)
Speaking to Wolf Blitzer Friday afternoon, Giuliani reiterated that he only ever spoke to retired FBI agents, whom he said were upset about Comey's handling of the email investigation, and everything he heard was "hearsay."
Blitzer asked why Giuliani told conservative radio talk show host Lars Larson that he had been communicating with "active FBI agents." Giuliani said he must have misspoke.
"I've had no conversations with anyone inside the FBI," he said. His awareness of the FBI's internal strife came entirely from former employees and was supplemented by what he read in the newspapers, he claimed.
The letter came as a "complete surprise," he said, then added that "maybe it wasn't such a surprise because I had been hearing for quite some time that there was a lot of […] debate and anger within the FBI about the way they were being treated by the Justice Department," which they felt had been corrupted by Attorney General Loretta Lynch and President Obama.
Giuliani told Blitzer that his oblique promises last week that reporters were about to get a surprise referred not to the letter, but to the campaign's advertising blitz in the final days of the election. A few minutes later he said that the "surprises" actually referred to "several different possibilities at the time."
One of which he said "was still on the table, so I'm not gonna talk about that, but it has nothing to do with emails."
"As far as what Jim Comey actually did, I had absolutely no knowledge of that," he said.
—
[image via screengrab]
Sam Reisman (@thericeman) is a staff editor at Mediaite.
Have a tip we should know? tips@mediaite.com