Conservative radio host and The Blaze founder Glenn Beck announced in a prerecorded message Monday that he was taking a break from his radio and BlazeTV show to focus on allowing his vocal cords to heal.
In the video, which was also posted to his Facebook page along with a transcript of his statement, Beck claims his doctor recommended he take the break:
As you may or may not have noticed over the past couple of months, my voice has been changing a bit. Because I have had problems with my nerves in my vocal chords in the past where my voice has stopped working I have been a little concerned, but I have really, really great doctors. This Friday I consulted with them and they have advised me to take a few weeks off and rest my voice due to some severe strain that has happened.

I want you to know that I know what I have to do. And I know how much work is left to do. And I know that this is just another irritant in the long road of irritants. But its not going to stop me, and it's only going to sharpen my focus.

I intend on using the next few weeks on intensive study on figures of the past, on figures of courage, and of people who have really made a difference.
Beck also took a shot at the haters. "There's a lot of people in the world that are celebrating this, but it's only going to be for a few weeks," he said. "I believe it will humble me, it will make me a better man, and will perhaps teach me of the things that are worthy to be said, as I measure every word now that I can speak. I think this will be a very good thing."
Watch below, via Facebook: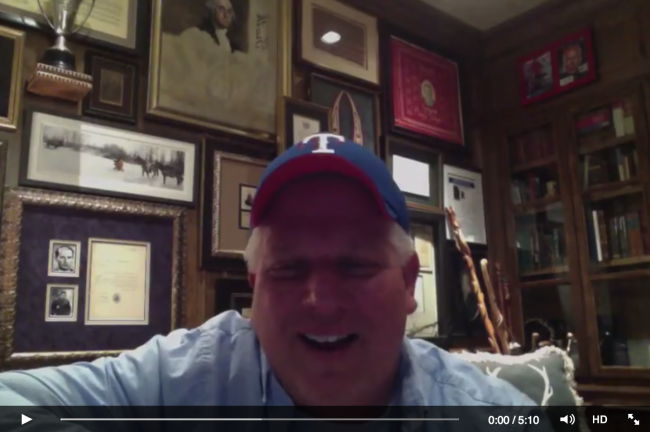 [Image via screengrab]
——< >>Follow Alex Griswold (@HashtagGriswold) on Twitter
Have a tip we should know? tips@mediaite.com