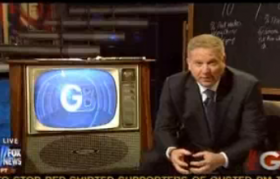 Every time Glenn Beck comes under heavy media fire (or heavier) — as he has this weekend — he has a similar response, which is to calmly (generally in a wounded, aghast tone) address the viewer from the sidelines, as though that's where he's been all along, just quietly going about his business. As if he's running some amateur, off the radar, pirate radio station, instead of being, arguably, the most powerful person in media today….at least when it comes to affecting the national political conversation. Today was no exception.
After a weekend that was filled with Tea Party talk, and accusations from Joe Klein that Glenn Beck and Sarah Palin were close to being seditious, Beck opted to follow up today's (Patriot Day) tweet with a long opening monologue that felt like a strange combination of a fireside chat meets an AA meeting. Accompanied by his 1950's TV set, which he has often used to demonstrate how we need to return to better times, Beck appeared to suddenly dial back on the nostalgia instead emphasizing the county's need to look to the future and take care of our children.
Beck is alarmed, he says, with the turn the country has taken over the past year (also, the period of time he has been the ratings cash cow for Fox…needless to say, Beck does not draw this connection) but people should never conclude from his show that he hates President Obama, in fact Beck prays for Obama every night…even though he is surrounded by secret Maoists.




Have a tip we should know? tips@mediaite.com