Glenn Beck: I 'Do Not' Care About the GOP, But Here's What They Should Do for 2016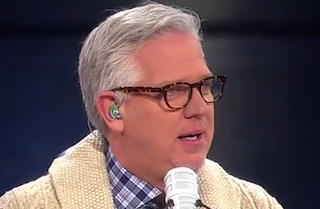 Glenn Beck wants you to know that he doesn't "care" about the Republican Party, but if he did, he would have a lot to say about the possibility of Mike Huckabee running for president in 2016. So, on his radio show Monday, he spent several minutes laying out the consequences of such a decision.
"Let's just pretend that I was an advisor to the Republican Party and I cared about the Republican Party, which I want to make it very clear, I do not," Beck said on his show. "If I care about the Republican Party, as a progressive entity" — whatever that means — Beck explained that he would welcome a Huckabee campaign.
In Beck's view, Huckabee will "bifurcate" the vote for Ted Cruz, which in the end, will be a bad thing for Republicans. "The way to make sure that Jeb Bush is not elected, is to make sure that the path for Ted Cruz is wide open," he said. "So what falls in the way of Ted Cruz?" Number one would be Rand Paul and number two would be "Christian evangelical types" like Mitt Romney (really?), Rick Santorum and Mike Huckabee.
"By entering Mike Huckabee, you have split the religious vote," Beck explained to his listeners and any GOP Party officials who might be listening.
In the end, Beck said that Cruz will be eliminated by breaking up the religious voting bloc and Paul will be taken out b the mainstream media, who will deem him too "radical" to be president. In this scenario, the Republicans would likely be left with another so-called "establishment" candidate like Jeb Bush. And we all know how well those types fared in the last two presidential elections.
So, while Beck thinks Huckabee's entry into the race would cause some major problems for the GOP, he doesn't exactly have any solutions to offer.
Watch video below, via TheBlaze:
[Photo via screengrab]
— —
>> Follow Matt Wilstein (@TheMattWilstein) on Twitter
Have a tip we should know? tips@mediaite.com