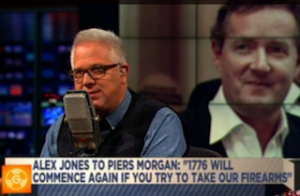 Glenn Beck spent the first fifteen minutes of his radio show today discrediting rival conservative host Alex Jones after his epic showdown last night with Piers Morgan.
Beck explains, "Piers Morgan is trying to have gun control. He is trying to make everybody who has guns and who believes in the Second Amendment to be a deterrent to an out of control government look like a madman. So now he immediately books the madman and makes him look like a conservative. He's not a conservative."
Of course, Beck didn't save all of his animosity for Jones, happily dishing it out to Morgan as well. After calling them "two of the most dishonest 'journalists' of our age," he went on to explain why his listeners shouldn't trust either one of them.
"CNN and Piers Morgan is not stating your best interest. They do not — he does not understand nor does he condone the Second Amendment. He doesn't understand the founding of our country. He is not for man ruling himself. The other guy (Jones) is not for the Constitution. Even though he might say he is, believe me, believe me, you cannot respect the founders and build a mountain of deceit that you stand on to declare the Constitution to be supreme and be a decent human being. You cannot say 'I'm for the constitution' and declare it standing on a mountain of deceit. You cannot do it."
Watch video below, via GlennBeck.com:
—
>> Follow Matt Wilstein (@TheMattWilstein) on Twitter
Have a tip we should know? tips@mediaite.com