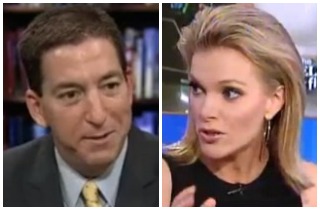 Glenn Greenwald has taken to beating up on MSNBC occasionally. Sometimes it might seem like he relishes the opportunity. Contrast that with how, in a Politico profile for Fox's newest primetime host Megyn Kelly, Greenwald actually had some words of praise for how much less tolerant of BS she is than others on the same network.
It's important to note at the outset that Greenwald finds Kelly's personal views "viscerally repellent," but that doesn't mean he can't still admire her. He told Politico, "She has a lower tolerance for being fed incoherent tripe from her own side than the average cable news TV host."
Greenwald thinks too much of cable news is just "blatant idiocy" that hosts just let hang in the air, unchallenged, in order to advance an agenda. But, he says, it's different on Kelly's show because she "seems to be often contemptuous of incoherent blather even from her own side, sometimes openly so."
RELATED: Greenwald Praises Megyn's 'Tough' Cheney Questions; Wonders if MSNBC Would Do Same to Dems
The Kelly File earned a spot on Mediaite's list of the twelve best cable news shows last month, in part due to her willingness to challenge people on her show that would receive friendlier forums elsewhere on Fox.
The Dick Cheney interview in particular really made Kelly stand out. Even MSNBC's Chris Matthews praised Kelly (as he did previously), telling Politico, "It was the kind of thing where she was confronting a harsh partisan indictment, saying isn't there another side to this, couldn't that same harsh indictment be reciprocated? I think that's pretty strong stuff."
[image via screengrab]
— —
Follow Josh Feldman on Twitter: @feldmaniac
Have a tip we should know? tips@mediaite.com
Josh Feldman - Senior Editor