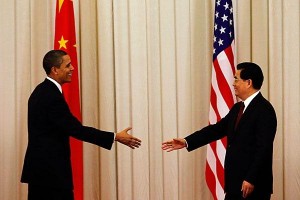 Politicians critical of the size of the national debt often point to our dependence on China. Now they can fan their flames with a new study that shows that China, surpassing the U.S., is perceived to the the world's economic superpower. (Perception aside, the economic reality is, of course, different.)
The global survey, taken by Pew, found "the global financial crisis and the steady rise of China have led many to declare China the world's economic leader, and this trend is especially strong among some of America's major European allies." Specifically: "solid majorities in Germany (62%), Britain (58%), France (57%) and Spain (57%) name China as the world's top economic power."
In general, global opinion of President Obama has also slipped significantly since he took office, "while overall confidence in him and attitudes toward the U.S. have slipped modestly as a consequence." A widespread view among the global public concerns America's use of military power: that the U.S. acts unilaterally, disregarding the interests of other countries.
While there seems to be a sense that Obama hasn't quite lived up to his optimistic promises, attitudes toward the U.S. are still predominantly favorable, and generally more positive today than in 2008. Also, in Europe, Obama's foreign policy leadership gets extremely high ratings, and same goes for Japan and Brazil. By contrast, he fares poorly in Muslim nations. For example, roughly a year removed from the Osama bin Laden raid, only 7 percent of Pakistanis have a positive view of Obama.
Pew also notes that there's less global interest in the 2012 presidential election than there was in the 2008 race.
Have a tip we should know? tips@mediaite.com