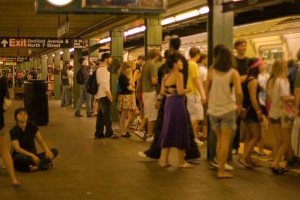 Plans are in place to bring WiFi and mobile phone service to the subways of New York. Sure, this announcement comes after a summer where budget constraints have caused lines to be discontinued and the MTA has considered no longer selling unlimited tickets but, hey, now I don't have to wait till I get all the way to work to surf porn on the internet!
The plans, which would give New Yorkers technology that Asian cities have had for years, were actually originally set to be put in place three years ago but had to be stalled when funds got short. Fortunately, Transit Wireless LLC, the group of companies that holds the contract, recently made a deal to gain new financing from the company Broadcast Australia.
From Bloomberg:
"Work on the New York project stalled before a single station was outfitted as Transit Wireless ran into financing troubles during the recession. Ortiz said New York City Transit gave Transit Wireless the go-ahead this month because of Broadcast Australia's financial commitment.

Under the accord, Transit Wireless was given two years to wire six subterranean stations near 14th Street on Manhattan's West Side to transmit mobile-phone signals to passengers on the platform. It was afforded as many as four more years to complete the remaining 271 underground stations.

Transit Wireless will begin installing smoke detector-size antennas in six stations within the next two months, said Alex Mashinsky, chief executive officer of Q-Wireless Inc., one of the companies participating in the group. Stations could be completed at a rate of 10 to 15 per month, he said.

The project will cost about $200 million to complete, not including the $46 million Transit Wireless will have to pay the transit authority, Mashinsky said."
While it will be pricey, the renovations will apparently bring a healthy sum back to the city once in place, something that the MTA desperately needs. And just think of the other advances! You can finally send pictures of that giant rat you saw the minute after you see it! You can look up alternate routes to work when the G Train stops running for no apparent reason! And this may be cause to drive another nail into the nail-covered coffin of print media as subways seem to be the one remaining place where city people read their news on paper instead of a fancy screen.
I for one am psyched. Mostly because I had to write this post while sitting at a stupid desk instead of standing in a thousand degree heat while drug addicts beg me for money and screaming children challenge dudes pretending to be musicians by banging trashcans for aural supremacy.
Have a tip we should know? tips@mediaite.com