GOP Candidate Derails Debate with Comments on Jews, Polish, Blacks, Gays, and More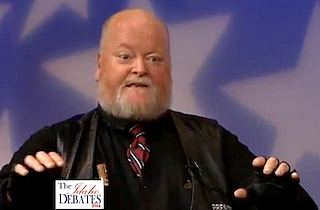 Idaho GOP gubernatorial candidate Harley Brown is running as the "candid candidate," and he rode the candidness to the end of the line during a debate Wednesday evening, calling political correctness "bondage," and defending his right to impugn everyone from Jews to blacks to "these bondage types" on his campaign website.

It all started when a moderator asked Harley about the "Harleyisms" posted on his website. Samples, all [sic]:
A while back I visited Israel and discovered the REAL reason Jewish men get circumcised – Because Jewish women won't touch anything that is not at least 20% off

Riding a Jap bike is like f_cking a faggot
I guess it feels OK until somebody sees you doing it
"A substantial portion of my political campaign is campaigning against political correctness," Harley boasted, noting that he included motorcyclists and Irishmen in the jokes. "I like blue collar values…I hit everybody. Jews, Polish people, Irish, Italians, religious jokes, and black jokes. And by the way, my wife screened that, and we took the real hardcore zingers out."
"I'm about as politically correct as your proverbially turd in the punchbowl," Harley continued. "I'm going for the vote of the real people out there, not these bondage types, people who don't have a clue about picking up strangers at night and hauling them off god knows where. Try that for a while."
The debate moderator's "next question!" is priceless.
Watch the clip below, via Aaron Kunz:
[Image via Aaron Kunz]
——
>> Follow Evan McMurry (@evanmcmurry) on Twitter
Have a tip we should know? [email protected]