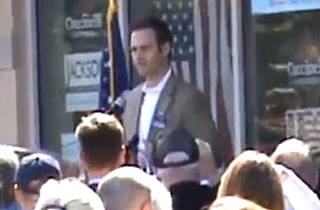 At a Constitution Day rally on Tuesday featuring Virginia gubernatorial candidate Ken Cuccinelli, a local GOP party chairman introduced the candidate with an anti-Semitic joke.
The rally was held with conservative radio host Mark Levin, and attracted several hundred Republicans and tea party members. But things really got going when John Whitbeck, 10th Congressional District Republican Committee chairman, preceded Cuccinelli with a riff on the new Pope that eventually turned into an old joke about the Jews billing Catholics for the Last Supper:
When the Pope is elected, the head of the Jewish faith goes to the Vatican, and brings a ceremonial piece of paper…and he hands the piece of paper to the new Pope, who ceremonially rejects it…This time around, the Pope says, "I gotta find out what's on this piece of paper." So he actually takes it from the head of the Jewish faith, he opens it, he looks at, he closes it, he grimaces. And his Jewish counterpart says, "What what is?" And he says, "Well, that was the bill from the Last Supper."

So, on that note, we're waiting for Ken Cuccinelli and he's on his way.
The line got a good laugh from the crowd, though either the cameraman filming the rally or someone next to him muttered, "What the hell?"
RELATED: Ken Cuccinelli's Facebook Post Requesting Supporter Feedback Got Quite The Pro-Sodomite Response
A campaign strategist Chris La Civita later backed away from Whitbeck.
"I don't even know who the guy is," La Civita said. "It's wholly inappropriate and not connected to the campaign. And it's not reflective of Ken Cuccinelli." (ThinkProgress disputed this, noting numerous instances of the Cuccinelli campaign interacting with Whitbeck.)
Cuccinelli, whose campaign has been dogged by Governor Bob McDonnell's scandals, currently trails his Democratic rival Terry McAuliffe in a hotly contested race that many political observers feel could an early indicator of the 2014 midterms.
Watch video of the incident below, via the Washington Post:
[h/t WaPo]
[Image via screengrab]
——
>> Follow Evan McMurry (@evanmcmurry) on Twitter
Have a tip we should know? tips@mediaite.com