GOP Consultant: Trump 'Unleashed Feelings of Racism,' and Bannon's Appointment Is a Bad Sign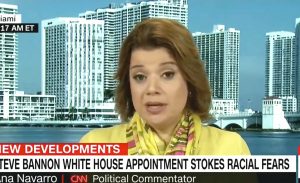 Republican consultant Ana Navarro warned that Donald Trump's appointment of Stephen Bannon as his chief strategist was an early signal that the president-elect had little intention of addressing the racism unleashed by his campaign.
"I think that the appointments he makes early on are the first signal he sends about what kind of president he is going to be," Navarro said Monday morning on CNN. Navarro has been one of Trump's most vocal conservative critics.
Before he became Trump's campaign chief in the final months of the election, Bannon was CEO of Breitbart, a media outlet for white-nationalism and other fringe conservative movements. Under Bannon's leadership, Breitbart had printed "anti-Semitic, anti-Hispanic, anti-everything" headlines, Navarro said.
"It is very concerning for people because those hate crimes that are going on in America are real. We are not making them up," she said.
"Whether [Trump] is a racist or not, he peddled in this for the last 18 months, and he unearthed an ugly underbelly in America," she said. "He unleashed feelings of racism, of hostility and sexism and division that are now out there. Some of these folks feel legitimized and empowered by his election."
Navarro described Bannon in a tweet as a "White supremacist, anti gay, anti Semite, vindictive, scary-ass dude."
Oh, hell! White supremacist, anti gay, anti Semite, vindictive, scary-ass dude named Senior Strategist. After vomiting, be afraid, America. https://t.co/cZvP3vccjS

— Ana Navarro (@ananavarro) November 13, 2016
Navarro said to Americans fearful of reprisals: "Don't be afraid. Denounce it. Don't lose hope. Get motivated." She added: "You are not alone. There are a lot of people in America who will be watching your back, who will be standing in solidarity with you. So to the people who are legitimately afraid of a Trump presidency, you are not alone."
[image via screengrab]
Have a tip we should know? tips@mediaite.com