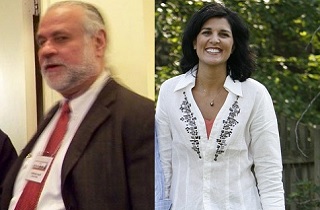 It took a few days, and a good bit of cajoling, but Gov. Nikki Haley's (R-SC) reelection campaign finally withdrew its support of a white supremacist whom Haley appointed to her reelection steering committee in February. After repeatedly standing by Council of Conservative Citizens Director Roan Garcia-Quintana for several days, the Haley campaign finally asked for, and received, Garcia-Quintana's resignation on Sunday.
Lest you think that the Anti-Defamation League and the Southern Policy Law Center were exaggerating when they called the Council of Conservative a "white supremacist" and "white nationalist hate group," respectively, check out some of the garbage that's on their website. If you think calling the Cuban-American Roan Garcia-Quintana a white supremacist is an exaggeration, check out what he said on Friday, when confronted with the controversy:
In an interview with The State Friday, Garcia-Quintana dismissed accusations of racism, saying the council "supports Caucasian heritage."

"Is it racist to be proud of your own heritage? Is it racist to want to keep your own heritage pure?" Garcia-Quintana said. "Racist is when you hate somebody so much that you want to destroy them."
Even after Garcia-Quintana made that fairly bald statement, the Haley campaign stood by him Saturday:
Haley's political adviser said Friday that her campaign will not drop Garcia-Quintana.

"The IRS thinks conservatives should be targeted for abuse, but Gov. Haley does not," Tim Pearson, a former chief of staff in the Governor's Office to Haley, said in an email.

"There is nothing racial about this Cuban-American's participation in the political process, nor his support for the first Indian-American governor and the first African-American U.S. senator in South Carolina history," Pearson said. "And, frankly, as long as Vince Sheheen continues to employ as one of his top political advisers Phil Bailey, a man who racially slurred Gov. Haley, Vince and his allies have nothing to complain about."
Bailey, a year ago this month, tweeted that "@nikkihaley is the Sikh Jesus. She can resurrect an unlawful campaign from the dead by simply appearing at a @SCGOP hearing."
The nascent campaign was also marred by a controversial statement by South Carolina Democratic leader Dick Harpootlian, who recently said he hoped Gov. Haley would be sent "back to wherever the hell she came from."
He later explained that he wasn't being racist, but sexist, explaining "All I'm suggesting is she needs to go back to being an accountant in a dress store, rather than being this fraud of a governor that we have."
You can give Harpootlian the benefit of the doubt that his initial comment was merely careless, a common phrase that took on racial connotations in that context, but there was no mistaking the misogyny in his (presumably thought-out) follow-up.
When Haley's campaign finally succumbed to pressure, and asked for Garcia-Quintana's resignation Sunday, they were sure to remind the press of those incidents:
"The Haley for Governor Grassroots Advisory Committee today asked volunteer Roan Garcia-Quintana to resign from our 164-member volunteer committee," Tim Pearson, a political advisor for Haley, said in a statement Sunday.

"While we appreciate the support Roan has provided, we were previously unaware of some of the statements he had made, statements which do not well represent the views of the governor. There is no place for racially divisive rhetoric in the politics or governance of South Carolina, and Governor Haley has no tolerance for it."

…In announcing Garcia-Quintana's resignation Sunday, Haley's campaign said, "Regrettably, Vince Sheheen and the leadership of the South Carolina Democratic Party do not share" Haley's condemnation of "racially divisive rhetoric," citing instances where it said Democrats – including state Senate Democratic Caucus political director Phil Bailey, former S.C. Democratic Party chairman Dick Harpootlian and others – had made racially charged statements about Haley.
Haley's campaign looks bad here, and they deserve to. If they had cut Garcia-Quintana loose immediately, they would have a much stronger argument to make, although Garcia-Quintana's existence in the Republican talent pool is still telling of the party's deep-rooted problems with attracting minorities. Had they not defended Garcia-Quintana, this would look entirely different. He was one of 164 volunteers, a plausible slip through the cracks. Dick Harpootlian and Phil Bailey are prominent figures in South Carolina Democratic Party leadership, and little, if anything, has been done to hold them accountable for their statements. Unfortunately, "I know you are, but what am I?" isn't nearly as compelling as "I'm firing this dude right effing now, period."
It's also unfortunate, for Republicans, that the Democrats have a large cushion of goodwill with minorities, which allows remarks like these to land locally, rather than nationally. The GOP desperately needs some of that goodwill, and stuff like this doesn't help.
Have a tip we should know? [email protected]