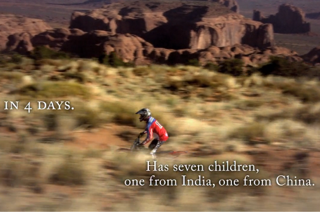 Former U.S. Ambassador to China Jon Huntsman is four days away from launching his official Republican presidential bid, and he has been teasing his announcement (set to occur, for some reason, in New Jersey) with avant-garde mini-films of a man riding a motorcycle through a desert. The first installment let the audience in on the secret of his old band. His new ad, released today, highlights the international nature of his family.
While it has been revealed that the man in the ad is not Huntsman, the attire and motorcycle do belong to the diplomat, and the facts airing as subtext are true. Neither of these facts brings any clarity as to how the ads work, though through the soothing music and the tranquil scenery of the desert, Huntsman may be attempting to aesthetically position himself as the anti-Tim Pawlenty.
The ad campaign has launched mass confusion among those who tend to cover such events, eliciting such headlines as "Jon Huntsman Rides Again" (for those who make an attempt to explain the ad) and "New Jon Huntsman Ad Makes No Sense, But You Can't Look Away" (for those who don't).
The ad's director, no one will be shocked to find out, is Fred Davis, most famous for Carly Fiorina's "Demon Sheep" ad and Christine O'Donnell's "I'm Not a Witch" spot. If these are the campaign teasers, we can't wait to see how Huntsman will actually try to convince people to vote for him.
The second ad, released today, below:

4 Days from Jon Huntsman Jr. on Vimeo.
Have a tip we should know? tips@mediaite.com