GOP Nominee for Alabama Governor Renounces Belief in Evolution Following Attack Ad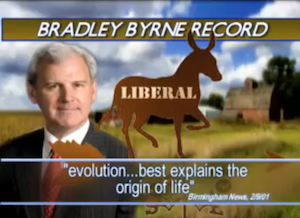 In the crazy mixed up world of politics, a person can get attacked for any number of ridiculous things. Just the other day, we reported that a memo from the RNC seemingly attacked Elena Kagan for criticizing slavery. Even weirder though, is the story of the Republican primaries for the Alabama gubernatorial campaign. A group called the True Republican PAC has released an ad attacking candidate Bradley Byrne for statements showing he believes in evolution. As sad as that is, Byrne's response was even worse as he seemingly renounced his beliefs.
The original attack ad seems almost like an SNL parody. In it, a man and a woman critique some incredibly rational statements. The supposedly offensive quotes from Byrne state that schools should teach evolution because the theory "best explains the origin of life" and also that he believes "there are parts of the Bible that are meant to be literally true and parts that are not." My God, what an extremist he is! Unfortunately, the political climate in Alabama is such that Byrne felt he had to respond to the ridiculous ad.
From a post on Byrne's website:
"I believe the Bible is the Word of God and that every single word of it is true. From the earliest parts of this campaign, a paraphrased and incomplete parsing of my words have been knowingly used to insinuate that I believe something different than that. My faith is at the center of my life and my belief in Jesus Christ as my personal savior and Lord guides my every action.

As a Christian and as a public servant, I have never wavered in my belief that this world and everything in it is a masterpiece created by the hands of God. As a member of the Alabama Board of Education, the record clearly shows that I fought to ensure the teaching of creationism in our school text books."
It's hard to say which is scarier; the fact that we live in a country where someone's belief in evolution can be held against them, or the fact that a politician would feel the need to deny believing something he's been taught since third grade.
(h/t Washington Monthly)
Here is the original ad. Marvel at the derisive way the male actor describes Byrne's belief in evolution. How silly they are!

Have a tip we should know? tips@mediaite.com