GOP Rep. Suggests Charlottesville Rally Was a False Flag Operation Funded By George Soros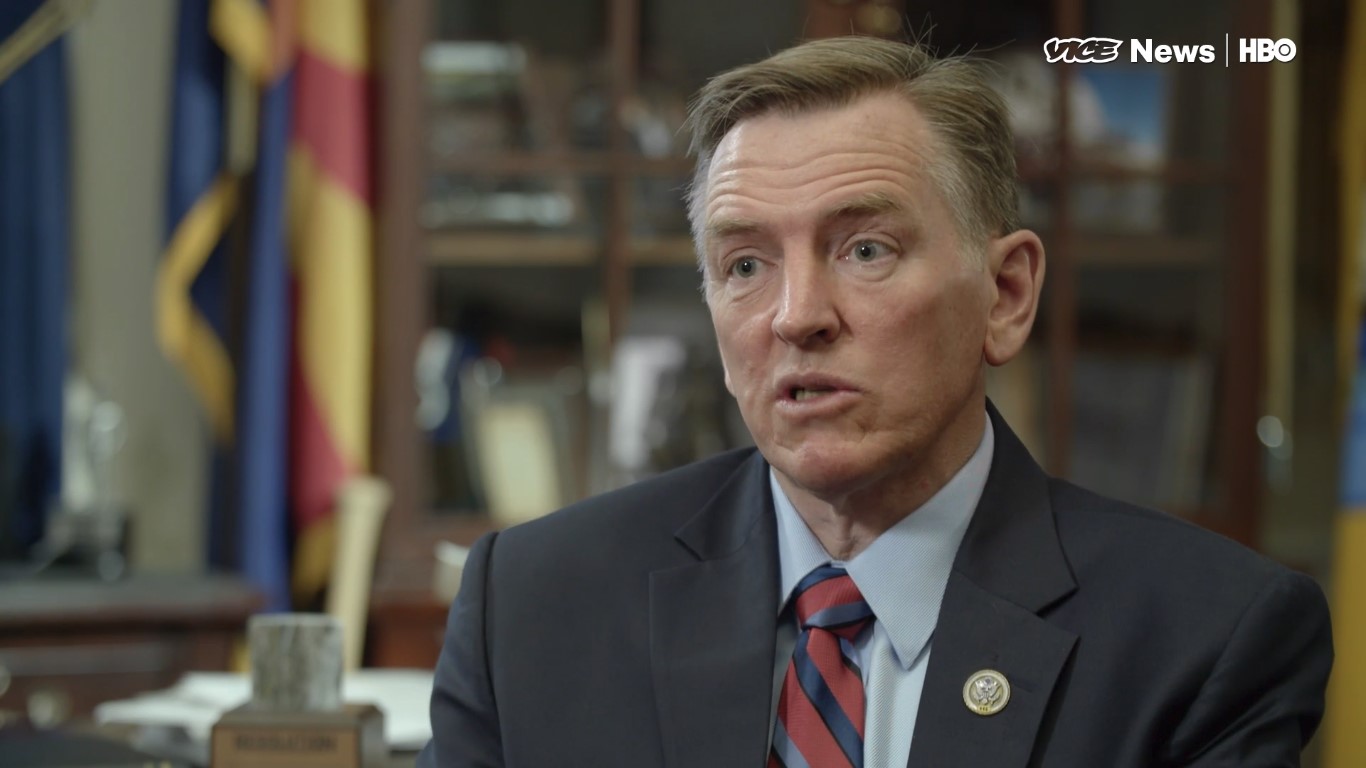 This is certainly an, umm, interesting take on the white nationalist rally that took place in Charlottesville.
During an interview with VICE News, Rep. Paul Gosar (R-AZ) attempted to make the case that the right's favorite boogeyman, billionaire George Soros, funded the organizer of the Unite the Right Rally in Charlottesville and that the violence that occurred was essentially a false flag operation.
Discussing a lawsuit brought up by one of his constituents who is suing him for blocking her from his official Facebook page, Gosar justified his actions by saying hateful rhetoric from the left could lead to violence, mentioning Antifa. When VICE shot back that the leftist group was largely in the news due to "the white supremacist rally in Charlottesville."
"Well, isn't that interesting," the Arizona Republican said. "Maybe that was created by the left."
When asked why he would say that, Gosar then provided the following response:
Because let's look at the person that actually started the rally. It's come to our attention that this is a person from Occupy Wall Street that was an Obama sympathizer. So, wait a minute, be careful where you start taking these people to.

And look at the background. You know, you know George Soros is one of those people that actually helps back these individuals. Who is he? I think he's from Hungary. I think he was Jewish. And I think he turned in his own people to the Nazis. Better be careful where we go with those.
Pressed if he thought Soros — who is known for donating to liberals causes and organizations — funded neo-Nazis in Charlottesville, Gosar stated that it would "be interesting to find out."
Jason Kessler, the organizer of the rally, has said in the past that he took part in an Occupy event once and that he did vote for Barack Obama. Meanwhile, VICE asked Soros' foundation for a comment and was told that Soros was 14 years old when World War II ended, Soros did not collaborate with Nazis and that he "abhors violence in any form and has never funded it. Never has. Never will."
[image via screengrab]
—
Follow Justin Baragona on Twitter: @justinbaragona
Have a tip we should know? [email protected]