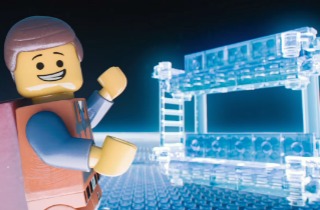 Pretty much everyone's seen The LEGO Movie (and was rightly pissed it didn't even get nominated for Best Animated Picture this year). It's an entertaining movie with a good message about innovation and creativity. But some on the right believe a movie specifically made to sell toys is somehow anti-business propaganda.
And in comments flagged by The Huffington Post's Ryan Grim, it turns out Wisconsin Senator Ron Johnson thinks so too.
Johnson spoke with the Wisconsin political blog WisPolitics mostly about his views on NSA surveillance, lamenting the "mischaracterizations" of what the NSA does in the ongoing national debate on the matter. But he also talked about combating attitudes that hamper economic growth, and even invoked The LEGO Movie:
He lamented what he called a "cultural attitude" that "government is good and business is bad," giving as an example the animated "LEGO" movie, in which the villain is called "Lord Business."

"That's done for a reason," Johnson said. "They're starting that propaganda, and it's insidious."
Now, there's obviously more to the movie than that, what it has to say about creativity, and what Lord Business is actually supposed to represent (a pretty big spoiler), but as this isn't a movie analysis website, I'll just use an "Everything is NOT awesome" joke instead.
UPDATE- 4:12 pm EST: Johnson responded to the Huffington Post piece and instead of disputing it, he actually doubled down:
The Huffington Post writer, Grim, can't seem to figure out why I or anyone else would say this about "The Lego Movie," and he insinuates some kind of conspiracy. Actually, it's pretty simple: I read a great piece in the Wall Street Journal in which an entrepreneur pointed out that the plot revolved around "the evil exploits of its villain, President Business."
And he reiterates at the end that this kids' movie, which, again, was expressly meant to sell toys, is "anti-business."
[image via screengrab]
— —
Follow Josh Feldman on Twitter: @feldmaniac
Have a tip we should know? tips@mediaite.com
Josh Feldman - Senior Editor