GOP Senators Reportedly Considering Abolishing Filibusters for SCOTUS Nominees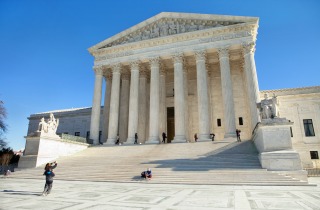 Senate Republicans are considering getting rid of the filibuster for Supreme Court nominees, Politico reports. While the proposal is still nascent, it would make it easier for the party that wins the White House in 2016 to replace aging justices. But, as Politico notes, if 81-year-old Justice Ruth Bader Ginsburg retires before President Barack Obama leaves office in January 2017, the new rule would make it easier for the president to replace Ginsburg with another progressive justice.
The move would expand upon then-Senate Majority Leader Harry Reid's (D-Nev.) implementation of the "nuclear option" in 2013, which got rid of the 60-vote requirement for confirmation of executive branch nominees, that Republicans vehemently condemned. Reid did this in response to Republican attempts to block Obama's nominees to various positions. The 2013 rule, though, granted an exception for Supreme Court nominees.
At the time, Republicans decried the move, calling it a "power grab." But now that the party is optimistic about its chances to win back the White House in 2016, they are considering expanding on the nuclear option by gutting the filibuster on Supreme Court nominees entirely. Politico reports, though, that the move is far from a done deal.
One of the senators leading the new effort, Sen. Lamar Alexander (R-Tenn.), called the 2013 nuclear option the "most dangerous restructuring" of Senate rules in history. A Reid spokesman highlighted the apparent change in position.
"We're witnessing a massive flip-flop in slow motion," Adam Jentleson told Politico. "Democrats appreciate the vote of confidence from Republicans in the wisdom of our rules change."
Sen. John McCain (R-Ariz.) said it would be "sheer hypocrisy" if the Republicans expanded on the 2013 Democrats' nuclear option that they condemned at the time.
"We said this was outrageous what they did," McCain told Politico. "Not only how they did it, but what they did, OK? Some of my Republican colleagues seem to have forgotten that. Some selective amnesia."
It is as of now unclear how much support the GOP proposal has in either party, as some Republicans want to reverse the 2013 nuclear option.
[Image via Shutterstock]
— —
>>Follow Andrew Desiderio (@forza_desiderio) on Twitter
Have a tip we should know? tips@mediaite.com