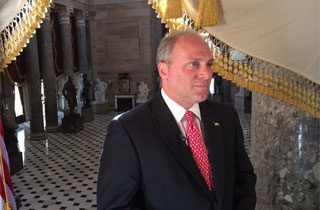 Rep. Steve Scalise (R-LA 1) recently became House Majority Whip, and with the new position comes a hiring spree of new staffers to help him with his duties. But Politico reports that a prominent DC lobbyist had significant input into Scalise's new hires — to the point where he was present during interviews with candidates and participated in hiring decisions.
John Feehery, president of communications practices at Quinn Gillespie & Associates, apparently had a major role in advising Scalise on his press and communication team hires, though he apparently "volunteered" his time and was not paid. Feehery was formerly the spokesman for Speaker Dennis Hastert and has decades of experience in the House, but is currently a registered lobbyist with some rather interesting clients:
Feehery is registered to lobby on behalf of major corporations like AT&T, Sony Corp., Qualcomm, 21st Century Fox and others that have interests before Congress and the House Energy and Commerce Committee, of which Scalise is a member.
While technically his participation doesn't openly violate any ethical laws, experts told Politico that the arrangement was "highly unusual," and that they'd never seen anything like it before.
In a statement, Feehery downplayed his involvement, saying that he'd never lobbied the office and worked in "strictly a communications strategy development capacity." Scalise's office added that Feehery never made the ultimate hiring decisions, and said he was merely acting as an advisor.
"The office has only ever sought his advice and opinion as a communications professional with many years of House leadership experience," they said in a statement.
It's worth noting that the House Ethics Committee frowns upon using lobbyists as volunteers, even if they're being unpaid: they once reprimanded Newt Gingrich for using a Wisconsin businessman as a volunteer, but did not punish him.
[Politico]
[Image via Facebook/Rep. Steve Scalise]
—
>> Follow Tina Nguyen (@Tina_Nguyen) on Twitter
Have a tip we should know? tips@mediaite.com