GOProud Founders Defend Andrew Breitbart's Pro-Gay Legacy In Response To Meghan McCain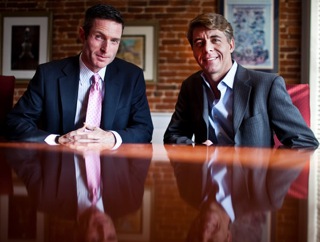 MSNBC contributor Meghan McCain didn't have the smoothest ending to her week on Thursday when visiting Al Sharpton's PoliticsNation and wondering aloud, during a discussion about offensive right-wing extremism and intolerance for pro-gay stances, why Andrew Breitbart had so large a following. As McCain predicted, she received a number of vitriolic reactions, but the majority regarding her comments on Breitbart were from those offended she would attack a man in death who was mostly socially liberal and prided himself on his support for gay rights. Yesterday, Republican gay and straight ally group GOProud released a statement lauding Breitbart's contributions to the gay community and condemning her comments.

RELATED: Meghan McCain Takes Dig At Breitbart On Al Sharpton, Claims GOP Treats Her Like A 'Mutant'
GOProud co-founders Christopher Barron and Jimmy LaSalvia released a joint statement condemning McCain's comments, thanking Breitbart for his support "when GOProud was just getting started and under intense fire from anti-gay forces within the conservative movement" and asserting that he "did more for gay people… than Meghan McCain could ever dream of":
"Meghan McCain should be absolutely ashamed of herself. She went on a liberal network with a liberal host and demonized Andrew Breitbart. During his life, Andrew Breitbart did more for gay people, and showed more political courage on behalf of gay people, than Meghan McCain could ever dream of. […]

"Andrew Breitbart wasn't an 'extremist' – he was a committed conservative. Andrew didn't engage in 'hate' politics – indeed he stood up to hate. Andrew didn't play on people's fears – quite the contrary, Andrew inspired tens of thousands of conservatives who had been bullied by the left for years to stand up and fight like hell for what they believed in.
The release concludes declaring McCain has, "as usual," lost this fight, condemning the fact that "she picked a fight this time with a man who isn't even alive to defend himself."
Have a tip we should know? tips@mediaite.com