Greta Van Susteren Defends CNN Amidst Criticism For Co-Sponsoring GOP Debate With Tea Party Express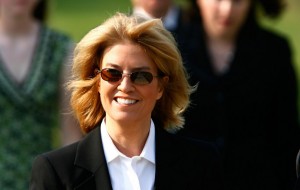 On her blog yesterday, Greta Van Susteren defended CNN from criticism they received after choosing to cosponsor a Republican presidential debate with the Tea Party express.
She linked to an article posted on American Journalism Review asking if it was appropriate for a news organization to ally itself in setting up a debate with a political organization. Greta stepped in to stand up for her former network against the media criticism.
My thought? The critics are silly. The critics have way too much time on their hands. Don't you judge the quality of the debate largely by the questions asked of the candidates and thus eliciting information?

Wolf Blitzer – a pro – did a good job anchoring the debate and asking important questions. To the extent others asked questions, as far as I can remember, I found them probative of the candidates. Questions were asked…and questions were answered. We got information. Isn't that what a debate is for? To hear what the candidates have to say? Does it really matter who asks? Silly… silly.

So now there is hand wringing among journalists about who CNN teamed up with to ask questions?? Upset with CNN about that? Really?? I don't think CNN should spend one second getting down in the weeds answering the critics on this.
She pointed out that critics weren't focused enough on the substance of the debate, because as she saw it, no one has been accusing CNN of asking superficial questions.
h/t MediaBistro
Have a tip we should know? tips@mediaite.com
Josh Feldman - Senior Editor