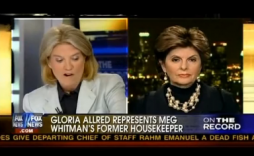 I don't think it's overstating matters to say that Greta Van Susteren tore celebrity lawyer Gloria Allred to pieces on her show yesterday. First some backstory: Allred, a California lawyer who has made a name for herself representing high profile cases, is currently representing Meg Whitman's former housekeeper Nicky Diaz who says Whitman knew she was an illegal alien during the nine years she was in her employment. Whitman is denying this, and has provided documents to prove she was under the impression Diaz was a legally allowed to work and asserts Diaz was fired as soon as her status was revealed (in 2009). Moreover, Whitman says "I believe Nicky is being manipulated by Gloria Allred for political and financial purposes during the last few weeks of a hotly contested election." Caught up?
Suffice to say, Greta does not approve of Allred's behavior. She introduced Allred yesterday by declaring that she was doing the "unthinkable" for "getting your client deported" not to mention the Social Security document Allred is using as evidence will get her "barbecued" if she takes it to court, moreover, Greta thinks that Allred is using this case to 'subvert the electoral process.' It's all "rotten," says Susteren. And that was just the first minute of the interview. Perhaps needless to say, it went downhill from there.
At one point Greta called Allred "delusional" for arguing that the SS document in question, which Whitman denies ever receiving, is evidence because it has her address and her husband's hand-writing on it: "it shows her husband was confused by it."
Later, after Allred admited this case will never go to court, Greta responded "that's just another horrible thing to do, why put it out in the press, why do this to her, why smear her, why even call her a liar." Allred, whose response throughout is that Whitman denied knowledge of the S.S. document to the press so therefore must be lying, finally aggravates Greta enough that she declares Allred is essentially "blackmailing" Meg Whitman.
"It's not class warfare. That's blackmail. That's the problem, Gloria, is you're blackmailing her because she's looks like the creep because she's the rich person against the person who's here illegally."
Says Allred: "That's defamatory." Also, Nicky Diaz is the new Rosa Parks, according to Allred. Van Susteren does not agree…to put it mildly. You can watch the full exchange below.
Have a tip we should know? tips@mediaite.com