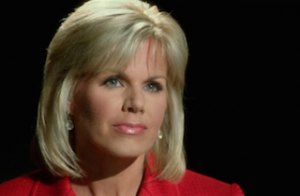 For the last two days, the headlines have been dominated by former Fox News anchor Gretchen Carlson's scandalous allegations against her former boss, Roger Ailes. In a lawsuit filed in a New Jersey court, Carlson claims that the Fox News Chairman and CEO sabotaged her career after she rebuffed his numerous sexual advances.  Several woman have reportedly come forward with similar claims. Carlson alleged that Ailes would frequently comment about her legs, ask her to show off her "posterior," and tell her she was "sexy" but "too much work." However, Carlson hasn't always been so critical of her former boss. In fact, in her 2015 book, Getting Real, she had all positive things to say.
Here are two passages that might be of interest. The first discusses how Ailes acted 'behind the scenes.'
"Roger Ailes, the most accessible boss I've ever worked for, was behind the scenes. He saw FOX as a big family, and he cared about everything we did. Sometimes he'd show up in the control room or call during the show. He'd watch us at six before he left home and then listen in the car going to work. One day we had set up a batting cage outside the building and were doing a segment where we all tried to hit eighty-mile-an-hour pitches. Roger walked by on his way into the office and he stopped at the batting cage and took a crack at the ball. On live TV! Roger always has the capacity to surprise."
In her book, Carlson also spoke about her decision to leave CBS News to join Fox News. She said she was drawn to the network because thought Ailes was "brilliant." She talked about her first impressions:
 "In person, Roger was razor sharp and inscrutable and we seemed to have a real connection. He saw something in me that he liked – what he called my "killer instinct." He once noted that I would stop at nothing to do the job. He got me. Over the years I've come to value our time together. He encourages me to be myself, to relax and to not try so hard to look smart. "People know you're smart," he says. He was also the first person to urge me to talk about being Miss America. CBS had taken the reference off my resume and I had come to see it – unfortunately – as not especially good for my credibility. Roger insisted people wanted to hear about Miss America from time to time, and that was certainly a pleasant shock. The subject didn't come up that often, but I no longer felt that it was part of my biography that had to be ignored or hidden. From the start I realized that working at FOX News was going to be different than anything I'd ever done."
Ailes has denied Carlson's allegations and says he plans to fight them vigorously in court. In a statement today, Carlson's attorneys dared Ailes to testify about her claims under oath.
This is an opinion piece. The views expressed in this article are those of just the author.