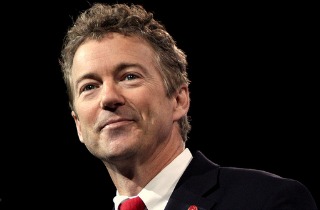 Sen. Rand Paul (R-KY) gave a speech on foreign policy at the Center for the National Interest, in which he laid out a vision so pleasing to Grover Norquist that he quipped: "I think I just heard Ronald Reagan speaking."
According to the Atlantic's recap of the event, the content of Paul's speech laid out a third path between the interventionist policies of George W. Bush and Barack Obama:
We must understand that a hatred of our values exists, and acknowledge that interventions in foreign countries may well exacerbate this hatred," he says, "but that ultimately, we must be willing and able to defend our country and our interests. As Reagan said: "When action is required to preserve our national security, we will act." Will they hate us less if we are less present? Perhaps …. but hatred for those outside the circle of "accepted" Islam, be it the Shia or Sunni or other religions, such as Christianity, exists above and beyond our history of intervention overseas.

The world does not have an Islam problem.

The world has a dignity problem, with millions of men and women across the Middle East being treated as chattel by their own governments. Many of these same governments have been chronic recipients of our aid. When the anger boils over as it did in Cairo, the anger is directed not only against Mubarak but also against the United States because of our support for Mubarak.
Norquist, the head of the powerful Americans for Tax Reform, applauded Paul's vision of what the senator dubbed "conservative realism," and his official Stamp of Reagan Approval should pay off handsomely if Paul decides to run in 2016.
Though some people who claim that they can do Reagan better than everyone else aren't pleased:
No, that was George McGovern. RT @maggiepolitico Norquist: "I think I just heard Ronald Reagan speaking," he says of Paul.

— Bill Kristol (@BillKristol) October 24, 2014
[Image via Shutterstock]
—
>> Follow Tina Nguyen (@Tina_Nguyen) on Twitter
Have a tip we should know? tips@mediaite.com