Gunman Family Lawyer Compares San Bernardino to Sandy Hook Conspiracy Theories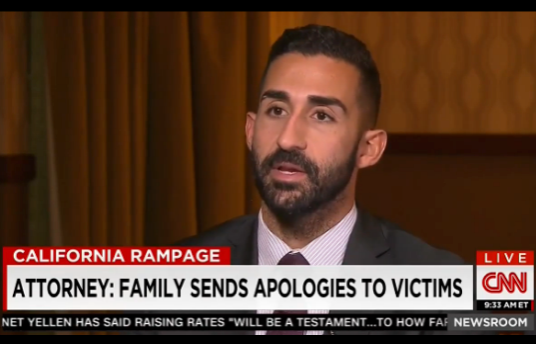 Syed Farook's family lawyer Friday said "there were a lot of questions" surrounding the San Bernardino shootings, at one point floating Sandy Hook conspiracy theories to suggest the crime did not occur as the FBI claims.
In an interview with CNN's Chris Cuomo, attorney David Chesley iterated reports that the attack had nothing to do with terrorism, saying, "there have been suggestions that it may be something that was related to their work, that somehow he was a disgruntled employee."
Farook and his wife Tashfeen Malik are the primary suspects in Wednesday's massacre that killed 14 and injured 21 in San Bernardino, CA. Investigators believe Farook and Malik opened fire at the Inland Regional Center before fleeing the scene in a black SUV. The couple later engaged in a standoff with police near Farook's apartment in Redlands, CA. They eventually died from police fire during a shootout with authorities.
Police uncovered two automatic rifles and two semi-automatic handguns, along with hundreds of rounds of ammo in the SUV. At Farook's home, investigators also found materials for explosives and several devices that resembled pipe bombs.
But Chelsey suggested the evidence against Farook and Malik doesn't stack up. Insisting Malik is only "ninety pounds," Chelsey said "it doesn't seem plausible to us that this petite woman would be involved in this sort of hyper-caricatured, Bonnie and Clyde crazy scenario."
Asked about the evidence uncovered by police at the scene, Chelsey told Cuomo, "I mean obviously these things were found there, how they got there we don't know."
"There were a lot of questions drawn with Sandy Hook and whether or not that was a real incident or not," Chelsey added, insisting "there has been a lot speculation about" the elementary school massacre that killed 20 children and six adults.
"There was nothing to show that [Malik] was extreme at all, and [Farook] was a normal guy, in every sense of the word," Associate attorney Mohammad Abuershaid said of the couple.
Chelsey added there is "a lot of motivation at this time to emphasize or create incidents that will cause gun control or prejudice or hatred toward the Muslim community."
Since the segment aired, CNN has since reported on developments regarding the suspects of Wednesday's deadly attacks. According to CNN's Chief National Security Correspondent Jim Sciutto, investigators in the case have learned that Tashfeen Malik took to Facebook in support of the ISIS leader Abu Bakr Al-Baghdadi, reportedly pledging support to the Islamic State.
Watch the video above, via CNN.
[h/t Daily Mail]
[Image via screengrab]
—
>> Follow Elizabeth Preza on Twitter (@lizacisms)
Have a tip we should know? tips@mediaite.com