Hacker Group Lulz Security Publishes Cache Of Private AZ Dept. Of Public Safety Files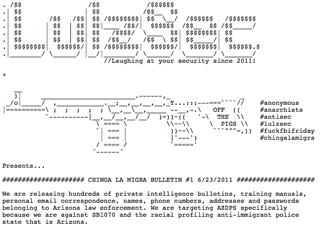 Hacker group "Lulz Security" has made headlines before for wreaking various forms of havoc on websites as varied as PBS.org to CIA.gov, but tonight they have put on their political activist hat and released what they claim is hundreds of top secret documents of Arizona's police force, in an attempt to protest anti-illegal immigration bill SB1070. The Arizona police have confirmed they have been hacked.
Lulz Security, which emerged in May 2011 and has until now kept most of its attacks lighthearted, including those in the name of Wikileaks, typically has kept its work to hacking sites with comical and false information, or releasing non-political secret data, like the hidden files of reality TV program The X Factor. Today, they released a full-fledged data-dump by the name of "Chinga la Migra" (which is Mexican slang for "f*ck the INS"– "migra" is short for "inmigración") to show, they claim, the true nature of SB1070 and fight Arizona's "police state":
We are releasing hundreds of private intelligence bulletins, training manuals, personal email correspondence, names, phone numbers, addresses and passwords belonging to Arizona law enforcement. We are targeting AZDPS specifically because we are against SB1070 and the racial profiling anti-immigrant police state that is Arizona. […]

Every week we plan on releasing more classified documents and embarrassing personal details of military and law enforcement in an effort not just to reveal their racist and corrupt nature but to purposefully sabotage their efforts to terrorize communities fighting an unjust "war on drugs".
Rachel Maddow broke the story on her program tonight and added a fair bit of insight on the release– most importantly, that the Arizona police have confirmed a hacking, though not the specific files released. She also notes that the release comes with far less comedy than their other work– "they are typically sarcastic and snarky… there's none of that going on here."
Maddow's report via MSNBC below:

Have a tip we should know? tips@mediaite.com