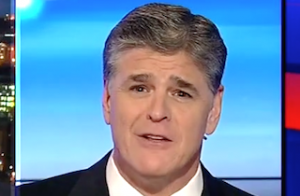 Fox host Sean Hannity offered to fly the president and his family on a one-way trip to Kenya or any other "country of your choice."
Speaking on his radio show Tuesday afternoon, Hannity proposed to charter a plane or perhaps borrow one from Trump, whose campaign he has vociferously championed.
I'll pay — hang on a second, I'm offering — I'll even rent a plane as big as Air Force One. […] I have an offer for the president. I will charter a plane for you and your family. I will make sure it's as big a plane as Air Force One, what you have grown accustomed to, in other words. Taxpayer-funded plane. I don't know where I'm going to get— Maybe I'll just — Maybe I'll ask Trump if I can charter his plane for Obama. That's what — I will charter Donald Trump's plane if he'll let me, and I will charter it to the country of your choice. You want to go to Canada? I'll pay for you to go to Canada. You want to go to Kenya? I'll pay for you to go to Kenya. Jakarta, where you went to school back in the day, you can go back there. Anywhere you want to go. I'm gonna — I'll put the finest food, caviar, champagne, you name it. I have one stipulation: you can't come back. That's fair.
The geographical details are not incidental. Trump suggested for years that President Obama's election was illegitimate because he was born in Kenya, a conspiracy theory that Hannity entertained on his primetime show. And Obama spent about four years as a child living in Jakarta, Indonesia — a biographical detail Hannity has aired before to make insinuations about the president's unfitness to serve.
Hannity was responding to a fake news article published in August from a Canadian parody site, which said that Obama and his family would move to Canada if Trump won. Though the article was plainly satirical, Hannity seemed to suggest that there was merit in it because the White House had not formally denied that Obama was planning to leave the country.
Hannity also said that Obama was "unfit" to serve and presided over the "worst presidency in our lifetime by far."
—
Sam Reisman (@thericeman) is a staff editor at Mediaite.
Have a tip we should know? tips@mediaite.com