Harry Reid Criticizes Romney for Acquiescence to Trump, Romney Fires Back: 'Good Riddance'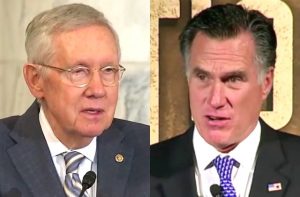 Harry Reid and Mitt Romney have quite the strange history, which makes their sniping in a new Huffington Post report all the more remarkable.
You may recall that back in 2012, Reid was arguably the biggest attack dog on the left regarding Romney's taxes. He claimed that a Bain investor told him Romney didn't pay taxes for 10 years, and he also claimed that Romney "manipulated" his returns.
Reid was asked last year if he has any regrets about accusing Romney of tax evasion. He infamously responded, "Romney didn't win, did he?"
So it might surprise you to learn that Reid told The Huffington Post in an interview out today claims he used to respect Romney before his acquiescence to Donald Trump:
Reid argued that Romney, who'd called Trump a fraud during the presidential campaign, had lost any ability to criticize the soon-to-be-president by prostrating himself for the secretary of state gig.

"This is man who came out big-time against Trump. Oh, the things he said about Trump. Well, that's great, that's wonderful," Reid said. "Either he wasn't telling the truth, or he's a person with no character. After having said that, to go and do homage to this guy he said awful things about, I don't think that shows much character."

"Mitt Romney is somebody I had respect for," Reid said, in a somewhat dubious assertion. "I have none anymore."
Yes, Reid is making the claim that even though he was throwing out everything he could about Romney's taxes in 2012, he did hold a level of respect for him that his discussions with Trump shattered.
Romney, of course, did not get the Secretary of State gig (which he announced last night), but he has publicly changed his tune on Trump. Sort of like how Reid kind of did.
Romney responded with this fiery statement to HuffPost:
"I was indeed very critical of Mr. Trump during his campaign. But now he has been elected president and accordingly, if I could have helped shape foreign policy to protect the country I love, I would have been more than willing to do so," Romney said through a spokesperson. "As for Mr. Reid, I lost respect for him when he repeatedly lied about my taxes and later admitted to it cheerily. Good riddance, Mr. Reid. The Senate will be better served without you in it."
[image via screengrab]
— —
Follow Josh Feldman on Twitter: @feldmaniac
Have a tip we should know? tips@mediaite.com
Josh Feldman - Senior Editor