Harvey Weinstein Reportedly 'Bragged' About 'Planting Items in Media Outlets' About Accusers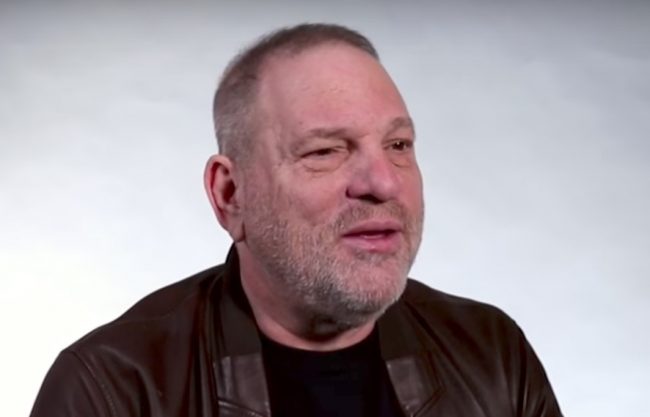 The massive New Yorker exposé on Harvey Weinstein––which features three serious allegations of rape––also details how women were terrified about retaliation from the Hollywood titan.
One of the women who spoke to Ronan Farrow said, "He drags your name through the mud, and he'll come after you hard with his legal team."
And as Farrow writes, "virtually all of the people I spoke with told me that they were frightened of retaliation":
"If Harvey were to discover my identity, I'm worried that he could ruin my life," one former employee told me. Many said that they had seen Weinstein's associates confront and intimidate those who crossed him, and feared that they would be similarly targeted. Four actresses, including Mira Sorvino and Rosanna Arquette, told me they suspected that, after they rejected Weinstein's advances or complained about them to company representatives, Weinstein had them removed from projects or dissuaded people from hiring them.
Multiple sources told Farrow that "Weinstein frequently bragged about planting items in media outlets about those who spoke against him," some citing the case of model Ambra Battilana Gutierrez in particular.
Back in March 2015, Gutierrez had apparently met with Weinstein at his office and he allegedly "began staring at her breasts, asking if they were real." She ended up going to the NYPD and saying this is what happened next:
Gutierrez later told officers of the New York Police Department Special Victims Division that Weinstein then lunged at her, groping her breasts and attempting to put a hand up her skirt while she protested. He finally backed off and told her that his assistant would give her tickets to "Finding Neverland," a Broadway play that he was producing. He said that he would meet her at the show that evening.

Instead of going to the show that night, Gutierrez went to the nearest N.Y.P.D. precinct station and reported the assault.
Investigators from the Special Victims Division allegedly came up with a plan that Gutierrez would meet Weinstein the next night while wearing a wire.
The conversation was taped, and part of it has been posted on the New Yorker website:
In the tape, when she brings up how he touched her breasts, Weinstein makes a comment that he's "used to that."
But after she went to the police, Farrow writes, the following happened:
After she went to the police, negative items discussing her sexual history and impugning her credibility began rapidly appearing in New York gossip pages…

According to a law-enforcement source, Weinstein, if charged, would have most likely faced a count of sexual abuse in the third degree, a misdemeanor punishable by a maximum of three months in jail. But, as the police investigation proceeded and the allegation was widely reported, details about Gutierrez's past began to appear in the tabloids. In 2010, as a young contestant in a beauty pageant associated with the former Italian Prime Minister Silvio Berlusconi, Gutierrez had attended one of his infamous Bunga Bunga parties. She claimed that she had been unaware of the nature of the party before arriving, and eventually became a witness in a bribery case against Berlusconi, which is still ongoing. Gossip outlets also reported that Gutierrez, as a teen-ager, had made an allegation of sexual assault against an older Italian businessman but later declined to coöperate with prosecutors.
And as has been noted on Twitter, tabloid reports like these popped up around that time:
Days after Ambra Battilana Gutierrez accused Weinstein of sexual abuse, these two stories showed up in the New York Post… pic.twitter.com/MsReJNeIyV

— Max Tani (@maxwelltani) October 10, 2017
Seriously, look at the way the NY Post wrote about a Weinstein accuser pic.twitter.com/QGlvhLRsye

— Tom Gara (@tomgara) October 10, 2017
As for the investigation into Gutierrez's claims, the DA's office didn't file charges:
Two sources close to the police investigation said that they had no reason to doubt Gutierrez's account of the incident. One of them, a police source, said that the department had collected more than enough evidence to prosecute Weinstein. But the other source said that Gutierrez's statements about her past complicated the case for the office of the Manhattan District Attorney, Cyrus Vance, Jr. After two weeks of investigation, the District Attorney's office decided not to file charges. The D.A.'s office declined to comment on this story but pointed me to their statement at the time: "This case was taken seriously from the outset, with a thorough investigation conducted by our Sex Crimes Unit. After analyzing the available evidence, including multiple interviews with both parties, a criminal charge is not supported."

"We had the evidence," the police source involved in the operation told me. "It's a case that made me angrier than I thought possible, and I have been on the force a long time."
[image via screengrab]
— —
Follow Josh Feldman on Twitter: @feldmaniac
Have a tip we should know? [email protected]
Josh Feldman - Senior Editor