HatefulBrag: Redstate.com Boasts That Chick-Fil-A Will Cater Their Convention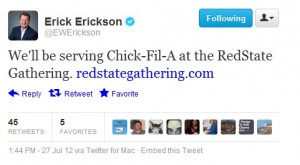 The battle lines have been drawn, and conservative website Redstate.com has placed itself firmly on the side of fast food purveyor Chick-Fil-A, which has become embroiled in a culture war over the chain's opposition to marriage equality. The site's Editor-in-Chief and figurehead, Erick Erickson, boastfully tweeted that the chain will be serving its delicious, inequality-supporting sandwiches at this year's Redstate Gathering.
The Redstate Gathering began as an informal backyard barbecue where the site's staff, contributors, and membership could meet up IRL, but it quickly grew into a right-wing Happening. At the 3rd annual Redstate Gathering in 2011, Texas Governor Rick Perry announced his candidacy for president, a testament to the site's influence among conservatives. At this year's 4th annual Redstate Gathering (tickets are still available!), the site has decided to make its support of anti-gay causes a focal point.
Chick-Fil-A has become something of a cause celebre with much of the right since their longstanding support of anti-gay groups exploded all over mainstream America's face when CEO Dan Kathy denounced gay marriage in an interview. The resulting backlash from decent people included a promise from Boston Mayor Thomas M. Menino to block Chick-Fil-A from opening a location in his city.
Defenders of the chain employ the twisted (and hence, intensely popular with conservatives) logic that it's not about hating gays, it's about protecting the freedom to deny freedom to gays. Menino's declaration of war on Chick-Fil-A has given some of them a fig leaf with which to defend the chain on free speech grounds, but elsewhere in Kathy's interview, he indicated a preference for his brand of "family" to lead Chick-Fil-A franchises, which in turn gives Menino the basis to claim discrimination.
Erickson's motivations, however, aren't all that muddy here. In a series of tweets, he made it clear that the group's decision to patronize the chain was also a sign of support, and he has long been a hyper-vocal critic of gay rights. How hyper-vocal? He has even compared proponents of gay rights to Nazis. He didn't do it in some subtle, open-to-interpretation way, either. His headline was "Gay Rights Proponents Act Like the Third Reich," and in case you thought he was just exaggerating, the first sentence of his piece was "Yes, I know about Goodwin's law, but comparing gay rights activists to the Nazis is fitting."
I'm not seeing it. Sure, the Nazis wore uniforms, and some of The Village People wore uniforms, but the Nazis weren't really known for their pro-gay agenda. History does not record the quality of Nazi chicken sandwiches.
The buried lede in the Chick-Fil-A story is that even the chain's most strident opponents, perhaps especially those opponents, have expressed monumental disappointment at not being able to eat those sandwiches anymore. Boycotts come and go, but rarely have I heard boycotters express such suffering. I've never had one, but this story tells me that Chick-Fil-A has an outstanding product, near-indispensable even to the chain's critics, which makes their decision to engage in this type of rhetoric an even more baffling misstep.
Silence costs nothing, and had Dan Kathy restricted his comments to his own personal beliefs, he might have found more defenders willing to agree to disagree over a scrumptious chicken sammy. When he sought to enforce those personal beliefs on others, though, he crossed a line that could not be breaded and fried away.
Have a tip we should know? [email protected]